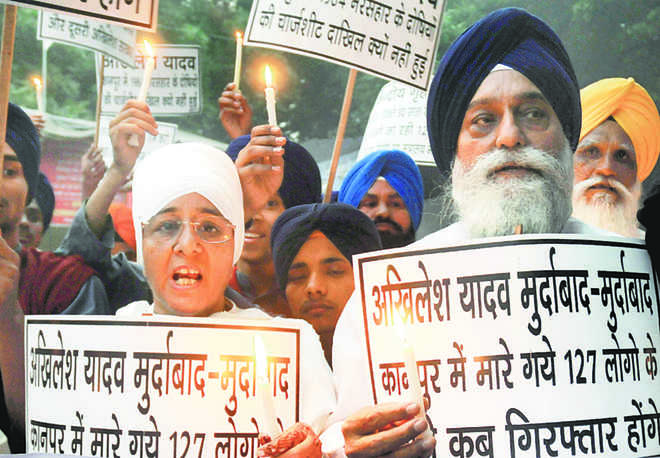 Shahira Naim
Tribune News Service
Lucknow, June 18
A special investigation team (SIT) formed to reinvestigate the anti-Sikh riots cases filed in Kanpur after the assassination of then Prime Minister Indira Gandhi in 1984 has decided to hold a fresh probe in 35 cases.
The SIT was set up by the Yogi Adityanath government in February following a Supreme Court directive on a petition filed by Manjeet Singh, who had sought reinvestigation of the cases filed at the Bajariya and Najibabad police stations.
The decision comes after the All-India Riot Victims Relief Committee (AIRVRC) followed up the matter for months with the Central and state governments.
The four-member SIT is headed by retired UP DGP Atul, with retired district judge Subhash Chandra Agarwal and retired additional director (prosecution) Yogeshwar Krishna Srivastava as its members. SP Balendu Bhushan Singh is the member-secretary.
During preliminary investigation by the SIT, it emerged that the police had filed the final chargesheet in 153 cases and final report in 1,101 cases. Of the total 1,254 cases, the SIT had selected 39 cases where FIRs had been registered for heinous crimes like murder, loot, dacoity and arson.
Chargesheets had been filed in four such cases, while in the remaining 35 cases, final reports had been filed on the grounds that there was no or insufficient evidence.
The SIT has decided to reinvestigate these 35 cases. It will soon seek permission from the court under Section 173 (8), CrPC. The SIT has set up an office on the first floor of the Kanpur city Kotwali and will start reinvestigation, which has to conclude within six months, as soon as it receives the court's permission.
The old records of the cases and statements of the victims and witnesses will be studied. The SIT will also get a status report of the four cases in which chargesheets had been filed.
The SIT is putting together a team of an inspector, sub-inspector, head constable and constable, besides two prosecution officers, to carry out the investigation.
After Delhi, Kanpur witnessed the fiercest riots involving killing, arson and destroying of businesses and homes. The Justice Rangnath Mishra Commission appointed to investigate the Kanpur riots had confirmed 127 deaths.
---
127 deaths on record
After Delhi, the worst violence occurred in Kanpur during the 1984 anti-Sikh riots
While Justice Ranganath Misra Commission, appointed by then PM Rajiv Gandhi, recorded 127 deaths, the toll was estimated much higher
---
Fight for justice
All-India Riot Victims Relief Committee renewed efforts to bring culprits to book after life sentence to ex-Union minister Sajjan Kumar
An RTI reply three years ago listed 34 culprits. AIRVRC visited police stations only to discover that most records against rioters were missing
Finding out that none of the accused was chargesheeted, it moved SC seeking a CBI probe, setting up of SIT
In August 2017, the SC issued a notice to the UP Government directing it to set up an SIT, which was constituted in February 2019
Top Stories