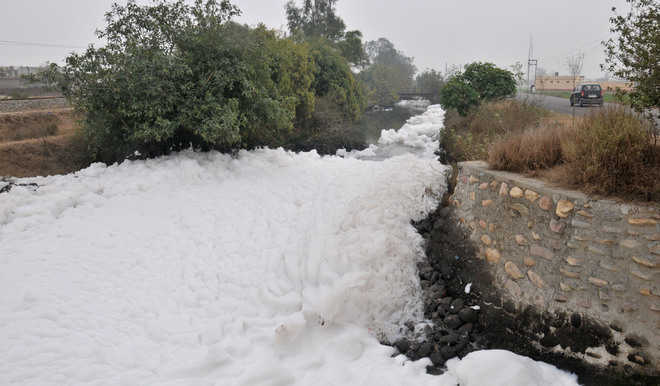 Aparna Banerji
Tribune News Service
Jalandhar, July 15
Of the over 6 lakh acre agricultural land in the district (of which 4.25 lakh is under paddy cultivation) merely .23 per cent of it is being cultivated with treated water from STPs and pond water. Of the total 6,05,000 acres of farmland, merely 1,400 acres is being irrigated with treated water.
With Jalandhar STPs having a capacity of 235 MLD, as much 14,100 acres of farm land can be irrigated by treated water. However, of this 235 MLD, only 16 MLD of treated water is being routed to fields. Collectively, this 16 MLD water irrigates 960 acres of agricultural land.
In addition to this, the 10 lift water irrigation projects (across 10 sewage ponds) in the district generate 30 to 50 lakh litres of treated water, which is used to irrigate 400 to 500 acres of farmland.
Of the 1,500 ponds in district, currently only 10 have lift irrigation projects.
While it has taken the government decades to build over six STPs, 10 pond water (lift) irrigation and 45 rainwater harvesting projects in the district, of the total STPs, merely two to three contribute to treated water for fields while rest await pipelines for crops. The rest of the agricultural land is being irrigated primarily with groundwater.
The Soil Conservation Department claims that treated water (3 MLD) from the total 6 MLD plant at Phillaur, 3 MLD from the Nurmahal STP and about 10 MLD from the Nakodar STP is being used to irrigate crops of about 960 acres in the district. An additional 400 to 500 acres are being irrigated with water treated through village ponds used for lift irrigation. Currently water from about 10 of the plants is being used.
None of the three STPs at Pholariwal (100 MLD and two of 25 MLD) and one at Basti Peerdaad (50 MLD), none are supplying water for irrigation. At Jaitewali (25 MLD) and Bambianwali (10 MLD) STPs, some farmers are privately taking water but there are no formal pipelines.
Lupinder Kumar, Sub-Divisional Officer, Water and Soil Conservation Department, said, "As of now 1.6 crore litres of treated water from STPs and 30 to 50 lakh litres from pond irrigation is being used to irrigate about 400 to 500 acres of land. The water from the rest of the projects is not being used for irrigation because the work on pipelines to carry water to fields is pending. We have submitted proposals for additional STPs at Shahkot, Phillaur (a second STP) and Bhogpur, which are expected by the end of the paddy season."
The Executive Engineer of the Sewerage Department said, "Of the 235 MLD of water of STPs in the district, currently only about 16 MLD is being used to irrigate the fields. The Soil and Water Conservation Department is the nodal department and the pipelines being laid by it will provide treated water for irrigation to farmlands."
Top Stories