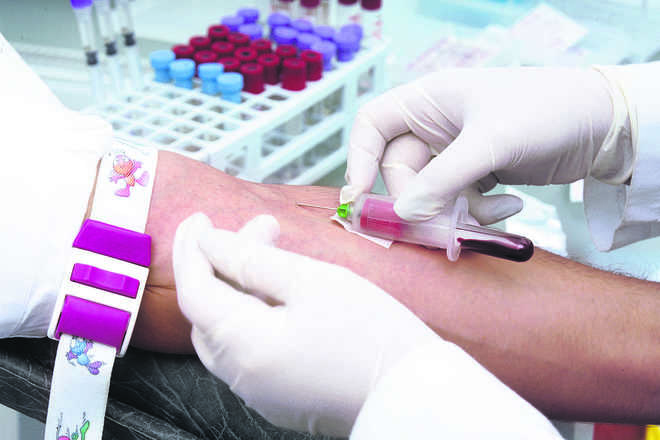 Ravi Dhaliwal
Tribune News Service
Gurdaspur, October 12
Anju Bala, a Dinanagar resident, visited the local civil hospital last week after she experienced uneasiness. On doctors advice, she underwent some pathological laboratory tests. The reports revealed that she had abnormally high blood sugar and blood urea levels. SGOT and SGPT tests, blood tests that are part of a liver profile, too, showed a marked increase in levels.
Anju Bala was referred to an Amritsar hospital. On her way, she decided to get her blood tests done again, this time from a private lab. The tests revealed that the woman was fit and fine.
With 1,500-1,600 tests performed at the hospital lab every day, it remains in the realms of speculation how many do actually go wrong. Obviously, no record exists of how many poor people have been wrongly referred to hospitals based on such reports. "The hospital does have a record of all referrals, but it has no record of how many patients are wrongly referred," said Anju Bala.
Her case, say insiders, is symptomatic of all government hospitals in Punjab where doctors refer patients to other hospital based on incorrect reports.
Dr Kishen Chand, Civil Surgeon, said he had initiated an inquiry. He, however, blamed "bungling in the sampling process."
Doctors admitted that not much should be read into Anju Bala's case "and that such things happen in government hospitals".
They seem to be right. Days before Bala was wrong-footed, Rajwinder Kaur (28), who was in the family way, was taken to the hospital by an Asha worker. Again, the lab erred by doling out bloated readings. Like Bala, she too was referred to an Amritsar hospital.
Dr Radhika, incharge of the lab, said it was not possible for her to study all reports. "More than 1,500 tests are done every day. It is not practically possible to keep a tab on each and every report," she said.
Paramjit Kaur Maan, general secretary, Punjab Asha workers Union, said, "The state's spending on healthcare is inadequate. Inadequacy brings in corruption and inefficiency. Will the civil surgeon fix responsibility in the cases of Bala and Rajwinder? If he does, we expect some heads to roll. If he does not, poor people will continue to be victims of an inefficient and incompetent system."
"Some variation in the values is inevitable between reports of tests conducted using two different methods, or between tests conducted using two different machines or at different time," said a doctor.
Patients at receiving end
Anju Bala of Dinanagar was advised some pathological laboratory tests at Gurdaspur civil hospital after she complained of uneasiness
The reports revealed that she had abnormally high blood sugar and blood urea levels, besides other problems
Her tests at a private lab revealed that she was fit and fine
A pregnant woman was also handed over a 'faulty report'