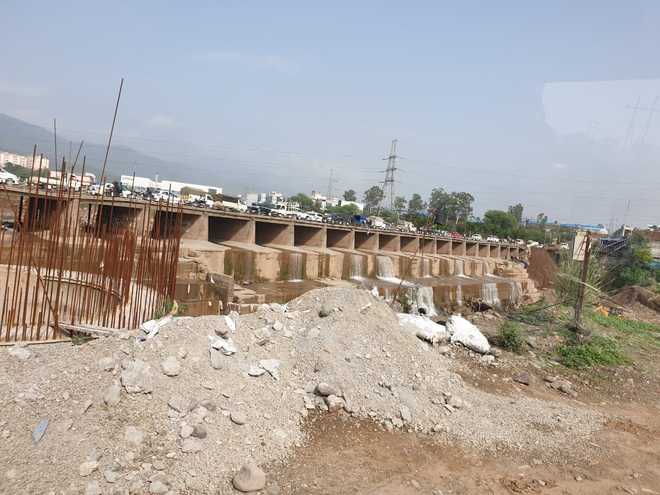 editorial@tribune.com
Ambika Sharma
Tribune News Service
Solan, July 10
The onset of the rains has damaged bridges and roads in the state's industrial hub of Baddi-Barotiwala-Nalagarh (BBN) with the crucial Balad bridge connecting Barotiwala with Baddi being closed for heavy vehicles since yesterday.
Executive Engineer, PWD, Sanjeev Agnihotri, said torrential rain, which lashed the town, have worsened the condition of two spans of the Balad bridge near Lakkar Depot which have already been weakened due to illegal mining and consequent erosion. He said plying of heavy vehicles has been banned on this bridge as a precaution to avoid further damage.
Heavy vehicles will have to take a detour from the main bridge on the National Highway-21-A though there were reports of that bridge too suffering some damage.
Though a new bridge worth Rs 8.5 crore was being constructed over the Balad river, rain has slowed down the pace of work. "Heavy boulders underneath have put a spoke in the construction work. The work to construct new bridge had begun in June last year. It is expected to be completed by March end next year", said Agnihotri.
Constructed in 1970s, the 180-m old bridge had been facing immense wear and tear in view of the movement of heavy trucks in the industrial belt as well as reckless mining at its base.
SDM Nalagarh Prashant Deshta said damage worth Rs 57 lakh has been suffered by the PWD on account of heavy rain in the Nalagarh subdivision in the last four days where six roads were damaged due to landslides.
These included Rajwanti-Malheni, Tikkri-Bohri-Amb-Da-Har, Kumarhatti-Mittian-Kwarni, Ramshehar-Suna-Nerli roads. Water was also seen flowing above the Chikni bridge after heavy rains in Nalagarh which had put on hold movement of traffic. Plying of vehicles has become risky over this bridge in view of the rain.
Chikni bridge inundated
Water was also seen flowing above the Chikni bridge after heavy rain in the Nalagarh industrial area
The traffic had been put on hold
Plying of vehicles has become risky on this bridge in view of the rain