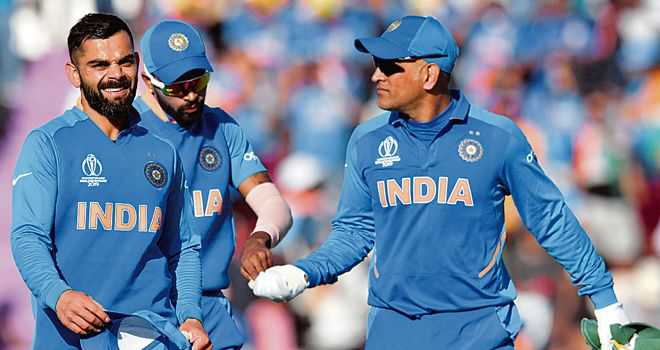 Rohit Mahajan
AT THE WORLD CUP
London, June 23
A quiet word from MS Dhoni, and Mohammed Shami did the trick. Dhoni brings a lot of value to the team — that's difficult to see on a day like Saturday, when he had laboured to 28 off 52 balls against Afghanistan. The innings earned him blame and ridicule, but there's a reason Kohli wants his former captain in his team.
"For me, he will always be my captain because I started my career under him," Kohli said earlier this month. "If I trust someone, believe in someone, I would do anything for them. There is trust, there is no explanation required between Mahi and me."
Kohli trusts Dhoni completely — this was evident when the team felt the pressure as Afghanistan closed in on victory yesterday. Kohli didn't mind ceding the leader's mantle in favour of Dhoni. It often seemed Dhoni was leading the side — Kohli would be fielding in the deep, or at cover or point, and Dhoni would confer with the bowlers, set the fields.
At one point, he saved India penalty runs when he noticed more fielders were outside the inner circle than allowed.
Kohli's lack of insecurity helps — his leadership is absolute, there's no fear that someone could be eyeing his job. He's happy to let Dhoni take charge.
Shami was under pressure when he took the ball to defend 15 runs in the final over. Mohammad Nabi struck a four first-ball. "I had to bring Nabi to the non-striker's end by allowing only a single," Shami said later. So he bowled a full ball, and Nabi was caught out. Shami then took two in two. "Mahi bhai told me to keep bowling yorkers," Shami said. "He said 'don't change anything now, you can get a hat-trick'."
Indian fans have been carrying a banner to the stadiums, with "In Dhoni We Trust" emblasoned on it. This could well be Kohli's motto as well, because even half-a-Dhoni is better than none.
Top Stories