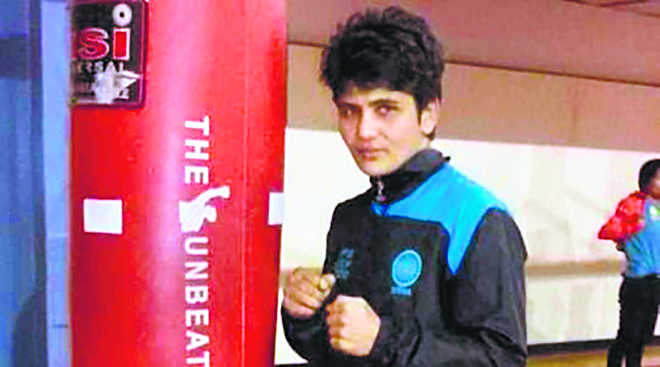 Subhash Rajta
Tribune News Service
chandigarh, november 12
From the recently concluded women's Asian Boxing Championships in Vietnam, the 10-member Indian squad returned with a rich haul of seven medals, including a gold, a silver and five bronze medals. "It's one of our best performances in terms of the number of medals… Seven out of the 10 boxers came back with a medal," said chief coach Shiv Singh, sounding extremely pleased with the performance.
Besides the medals, the squad brought home two more valuable things —respect of the opponents and hope for the future. Quite predictably, Mary Kom, who won her fifth Asian gold, played a pivotal role on both counts. "She's amazing, I don't have words to describe what she does," said Sonia Lather, the silver medallist in the 57kg category at the event. "She's an inspiration not just for the Indians, but for boxers across the globe. She's in her mid-30s, has kids... Yet she's is so fit, such a great fighter. She commands so much respect wherever she goes!" gushed the Haryana boxer.
Singh, too, felt the opponents were not taking the Indians lightly, especially after seven of them made it to the semifinals. "When seven of our boxers reached the semis, I could sense some change in the attitude of the other teams towards us. They noticed this, our boxers were being discussed," said the coach.
"Mary, of course, was the star of the event. She was returning after a considerable gap, but she was simply unbelievable, she just blew away her rivals. India could hope for another Olympics medal from her in the Olympics, she was that good."
Big hopes from Mary
Can Mary last until the next Olympics, given that she's already 34 and injuries are just a bout or a sparring session away in this sport? "Having seen her fight at the Asian Championships, I am pretty sure she would be a medal contender at the 2020 Tokyo Olympics," said Singh. "She's on the top of her game and fitness at the moment. Not only did she beat all her opponents in her group 5-0, she also hammered her North Korean opponent, who had thrashed her rivals in her group, by the same margin in the final. It shows how far ahead she was of her competition. If she doesn't sustain any injury, I've no doubt she would be a strong medal contender in 2020," the coach asserted.
Federation support
The other thing that has brought smiles back on the faces of the Indian boxers is the revival of the Indian Boxing Federation, and the effort it's making to bring big events to India. "Our graph took a sudden dip after 2102 when the federation got into trouble. There were few tournaments and little exposure for us," said Sonia. "But now big events will be he held in India. There's women's Youth World Championships in Guwahati next week, and next year we are hosting the women's World Championships. It's going to be huge to fight in such a big event in our own country, in front of our own people. It's going to give such a massive boost to the sport."
Singh couldn't agree more. "Boxers need events and exposure, support from the federation and facilities from the Sports Authority of India," he said. "Thankfully, they are getting what they need from both at the moment, and that's a major reason why our boxing has started looking up."
Top News
193 Palestinians have been killed in Gaza since truce ended ...
Flights were diverted to Jaipur, Amritsar, Lucknow, Ahmedaba...
Sarvjeet Sidhu, pleaded guilty to attempted murder, while Su...
Votes cast in the Chhattisgarh, Madhya Pradesh, Rajasthan an...
Posthumous sperm retrieval (PSR) is a procedure that involve...