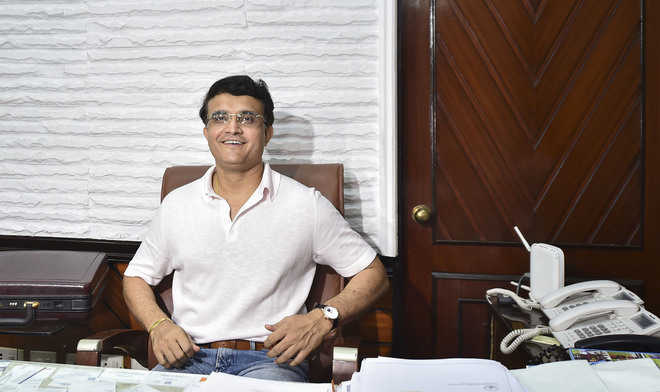 Kolkata, October 17
Sourav Ganguly, the president-elect of the Indian cricket board (BCCI), wanted to go to Ranchi for the third Test between India and South Africa. However, he has said he would not be in Ranchi, contrary to his wish — for he has some other (commercial) commitment to be present in some other city.
"I wanted to go to Ranchi, but won't get time as I have to inaugurate this edition of the Indian Super League (ISL, the football league) as I'm now the face of ISL and shot for them," Ganguly said. "So I will be attending the opening ceremony in Kerala." This situation indicates what conflict of interest is: Ganguly desire (and maybe duty) to be in Ranchi as BCCI's president-elect is subordinate to his financial interests as the "face of the Indian Super League".
Conflict of interest
Conflict of interest has become a buzzword in Indian cricket over the last few years. It's a good development. A few years ago, no one blinked an eyelid when Chennai Super Kings owner N Srinivasan was also the president of his state association (TNCA) and BCCI. Being in charge of BCCI, IPL and TNCA allowed him to brush the 2013 IPL betting and spot-fixing scandal — which involved his son-in-law Gurunath Meiyappan, among others — under the carpet. Anil Kumble was at one time president of the Karnataka state association, chief mentor of IPL team Royal Challengers Bangalore, chairman of the National Cricket Academy, and his company Tenvic was signing up young players for commercial deals.
Over the past few months, when the Supreme Court-appointed Committee of Administrators (CoA) ran BCCI, players of the stature of Ganguly, Sachin Tendulkar, VVS Laxman and Rahul Dravid came under the conflict of interest cloud. Ganguly, especially, was wearing several hats simultaneously.
Commercial activities
Ganguly has now said that he would limit his commercial activities. "I will continue doing only (TV reality show) Dadagiri and endorsements, rest all stopped," he said. "Commentary, article writing and IPL, I'll stop doing all this now. I've already quit Delhi Capitals and conveyed it to them. It's a huge responsibility (being BCCI president)..."
Former players make a valid point when they say that no ex-player would be available to work in cricket administration if the conflict of interest clause is enforced strictly. They do have a point. But maybe, just for two-three years, former players could let moneymaking take a backseat and stick to the one-man, one-post principle? We don't want a repeat of the Srinivasan or Kumble situation in which conflict of interest led to sullying of cricket's image. — Agencies, TNS