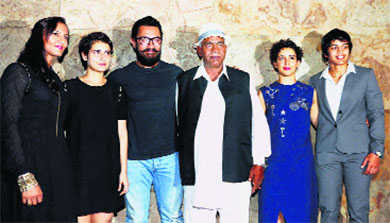 Vinayak Padmadeo
Tribune News Service
New Delhi, October 5
The Chinese athletes are known to keep their poise. They keep to themselves and unless forced by protocol they hardly interact. But ever since the success of Dangal movie, things have changed at least in the wrestling fraternity.
The story of Mahavir Phogat's struggle to make his daughters Geeta and Babita world-class wrestlers was loved in China. The Aamir Khan-starrer grossed over Rs 1,300 crore. And to cash in on this popularity, the Chinese Wrestling Association (CWA) has raised a request with the Wrestling Federation of India (WFI). China is hosting the Senior Asian Wrestling Championships in February next year and wants the Bollywood superstar to make an appearance there.
Zhang Ye, who is a member of United World Wrestling's technical commission and a member of the Asian Associated Wrestling Council, has raised this request on at least two occasions. WFI president Brij Bhushan Sharan Singh has assured the Chinese that he will do all he could to get Khan to China during the championships.
"The Chinese are very keen to have Aamir Khan's presence during the event. They have approached us twice already. They said they will be happy if the superstar comes for a day as that would make it a successful event," said a source in the know of the deliberations. Singh was unavailable for comment.
The Chinese Wrestling Association also asked whether the Phogat sisters will be part of the Indian contingent for the Continental Championships. "They were told that there is a trial system to select the team in India and if Phogat sisters win the trials they will surely come," he added.
After the success of the film, the Phogat sisters have become celebrity wrestlers. In July this year, South Korea's first lady Kim Jung-sook, a self-confessed movie fan, invited the family to meet her during the Korean President Moon Jae-in's visit to India. Kim had watched the movie with the Indian students in Seoul.
Top Stories