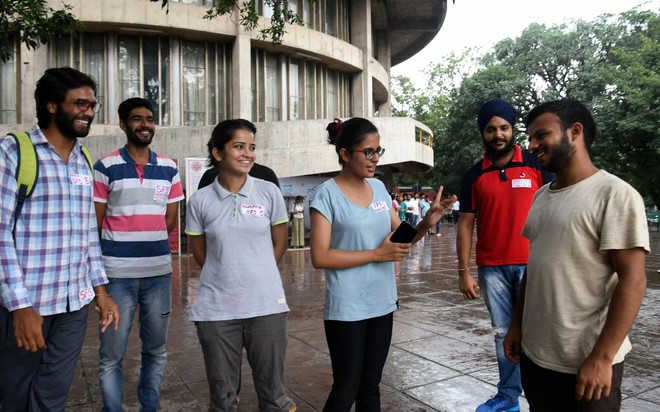 editorial@tribune.com
Bhartesh Singh Thakur
Tribune News Service
Chandigarh, September 7
The Students for Society (SFS) improved its vote count for the top post of the Panjab University Campus Students' Council (PUCSC) by 612 votes this year, bagging a total of 2,802 votes than previous year's 2,190. Reason: It started working among Panjab University (PU) students right from the beginning of the year.
"It was the ground work that helped us secure the victory," said Kanupriya, president-elect of the PUCSC.
"Earlier, we used to rely on mass mobilisation and classroom campaigning only," said Hassanpreet Kaur, who is a spokesperson for the SFS. She had contested for the post of the president last year. The SFS knew that ideological differences were getting sharper due to communal politics in the country.
"We came across an instance where the ABVP tried to propagate anti-Muslim sentiments and girl students repulsed it," she said.
Focused on top post only
At the party's general body meeting, it was decided to field only one candidate. The party chose Kanupriya from the Zoology Department for the president' post. But her department did not have as much students as the University Institute of Engineering and Technology (UIET), University Institute of Legal Studies (UILS) and the Department of Laws, which had the highest number of votes.
"We didn't focus on choosing a candidate from big departments. We banked on ideology. At the UIET and the UILS, our cadre has become stronger. We got the highest number of votes from the Department of Laws," she said. At the Pharmacy Department, the party worked throughout the year and turned the tide in its favour, bagging the highest number of votes.
"We knew we were winning. We were getting an overwhelming response during campaigning," said Hassanpreet Kaur. The SFS politics has made other parties discuss gender equality and the privatisation of education. During campaigning, it collected money from its supporters. About Rs 4,000 was collected. The money was spent on stickers, posters and leaflets.
Gurpreet Doni, director of the SFS' street play, "Mela Votaan Da", said, "We improved our standing in the UIET, which has the highest number of votes. This year, we relied on man-to-man marking. We talked to students individually. We took their feedback on our policies." He added that the street play had worked effectively as it attracted more students towards the party. "Had we got more time for campaigning, our lead would have been higher," he said.
The party aggressively targeted freshers during counselling sessions and workers were allotted departments. When the session started, party workers again went to freshers to introduce themselves. Harman Deep, an SFS leader, said, "This year, we were able to build strong contacts with student. It helped us tackle propaganda against us.