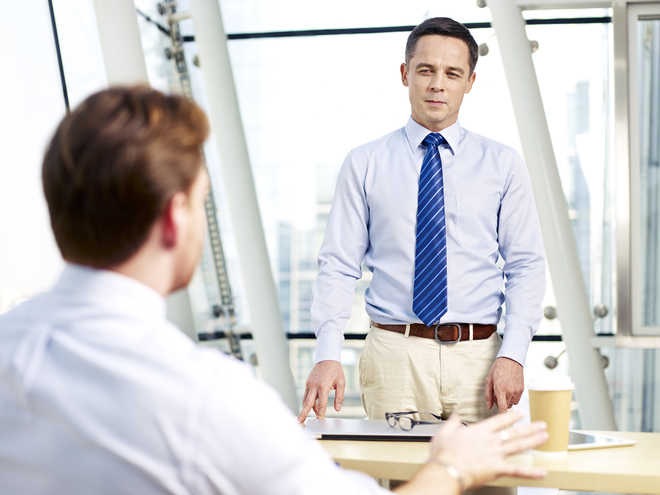 editorial@tribune.com
Sanjay Arora
In the mid 1980s, one of Doordarshan's popular serials was Vikram aur Betaal. All episodes of this serial had a similar format — Betaal used to narrate a story to king Vikram, and after completing the story Betaal would pose a query. If the king knew the answer, he was bound to respond and the minute he spoke, he broke the vow of silence and Betaal would fly back to the treetop, and the king had to return again to take him away.
Years later, a similar dilemma is observed in professional settings, when people do not know if they should speak or not speak in a meeting.
There are many schools of thought on the art of participating in a meeting. When you are new to the job, there is one acceptable rule of thumb — the M/2N rule. For a meeting of M minutes, attended by N participants, you must speak M/2N times to maintain visibility. Long back, there were experts who advised you to avoid speaking in a meeting unless it involved stating or correcting a fact. This advice of becoming a fact-checker has not stood the test of time either. And then there is this hilarious article on "10 Tricks to Appear Smart During Meetings" by Sarah Cooper. These thumb rules, while easy to remember, are too generic and often result in a comedy of errors. So how can one know when to speak and when not to speak? The answer, as always, is "it depends".
It depends…on your role in the meeting. The importance of knowing your role in the meeting can't be stressed enough. Your preparation will largely flow from it. Showing up unprepared in a meeting is disrespectful to others, and reflects poorly on us. So how does one know their role in a meeting?
There are four major roles people assume, depending on their power and expertise.
Spectator
Entry level employees often fall into the "spectator" trap when they are learning the ropes. You will often see a few smart ones offering to take notes or assuming the role of a facilitator. If you feel like you are a spectator, either you are in the wrong meeting, or this is your opportunity to learn. Take out that pen and scribble every word of wisdom you hear!
Preacher
People high in seniority and expertise often assume the role of the preacher. Other participants acknowledge this and prefer to let the preacher take the centre-stage. If you feel like you are the preacher in the meeting, be prepared to speak a lot more than usual.
Reviewer
People high in power but low on expertise tend to ask more questions in the meeting. The questions and approach is investigative to help reach a decision.
Expert
You are not the most powerful person in the room, but no one knows more about your stuff than you do. Wait for your allocated time, or if any questions are directed to you, and talk away to glory. At other times, stay alert and curious.
When silence is golden
While adjusting your participation levels to above mentioned roles is a good place to start, one should also be prepared to stay silent on occasion. Here are some moments when silence is golden:
When you want to give behavioural feedback, save it for later. Remember, when you appreciate someone, do it in public. When you critique someone, do it in private.
When you have a point, but realise that it can be made offline as well. If your point is about something which concerns only you, and you have access to key people outside of this meeting, talk to them later.
When you have a question but the meeting is running late, or just before the break/end. Don't become the most hated person in the room unless the point you are about to make is of astronomical impact.
When two big shots are in an argument, sit it out unless you can contribute (respectfully) with facts.
When you think of a joke, but you are not sure if it will work. As Plato said wise men speak because they have something to say; Fools because they have to say something.
— The writer is founder Maven
All readers are invited to post comments responsibly. Any messages with foul language or inciting hatred will be deleted. Comments with all capital letters will also be deleted. Readers are encouraged to flag the comments they feel are inappropriate. The views expressed in the Comments section are of the individuals writing the post. The Tribune does not endorse or support the views in these posts in any manner.