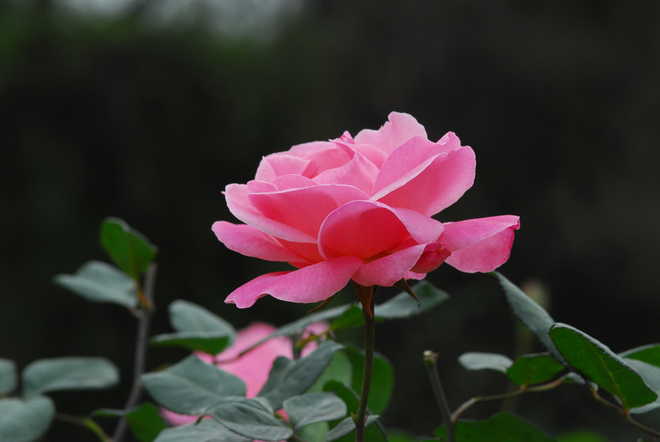 singhking99@yahoo.com
Amarjeet Batth
A garden is considered incomplete without a rose plant, which is sometimes called the 'queen of flowers'. In mild temperature conditions of South India, perpetual flowering can be found all round the year but in the plains of North India, roses produce quality flowers only during winter. Roses also maintain the continuity of bloom while winter annuals fade away as the weather gets warmer.
Where to plant
A rose should be planted in a well-drained sunny location. It should get almost full day sunlight and be away from shade.
It should be a protected place where high speed winds can't damages the flower.
Allocate space away from other plants. Avoid mixing multiple cultivar in the flowerbed.
Time it well
Plant roses from September till January.
Flowerbeds need to be dug before rains.
Mix the soil with 4-6 kg of farm yard manure (FYM) and bone-meal.
Keep plant to plant distance to 2-3 feet.
Make pits 2'x2' deep.
Place the soil ball or bare-rooted rose keeping bud union above the ground level and press the soil to firm and water.
Way to irrigate
Irrigation depends on the nature of the soil and weather conditions.
Irrigate once a week to keep the soil moist but don't over water.
Hoeing between irrigation is beneficial.
Tips to maintain
A gardener must know that besides flowers, it is the foliage which adds grace to it. Therefore, round the year care is essential to enjoy a continuous and impressive bloom. Here are some helpful tips:
Remove suckers as soon as these appear from rootstock at the point of origin, even if the top soil has to be dug.
Disbudding can be done for quality bloom.
Uproot weeds regularly as these look ugly and compete for food, water and space.
Remove spent flowers to encourage new growth and blooming.
For regular supply of roses, stems showing faded flowers must be cut back down to the first five leaflet leaf level. The bush will continue to gain height. By April end, rose bushes can exceed 3-5 feet in height.
To control height of bushes, prune the stem back down up to the five-leaf level.
By following pruning from both the levels, the height and spread of the bush can be maintained at the desirable size without any drop in the continuity of the flowering.
For perfect pruning
Rose bushes are hard pruned in the first week of October, which yield high quality flowers within 45 days during the year end, around Christmas and New Year when roses are in demand. Follow the process:
First of all, remove dead, diseased canes with bad unions followed by broken or wounded canes. Weak canes which are thinner than pencil, canes growing in the centre and which crisscross should also be cut leaving only 4-5 stems.
Use a sharp pruning shear at 45º, at least quarter inch above the bud to avoid damage to the bud leaving at least two set of leaves to maintain plant vigour.
Pruning maintains good form of the rose bush and encourages new canes from basal breaks, enabling plants to renew themselves year after year.
Taking care of the nutrition
Roses are heavy feeders and require high level of nutrition throughout the year for the maintenance of healthy foliage and high quality bloom.
In mid-October, after pruning, the rose bush may be given nearly 2 kg of farm yard manure, along with 30 grams of diammonium phosphate (DAP), and 20 grams each of urea and muriate of potash (MoP) per bush.
The mixture must be well mixed and spread in the well dug-up soil around the plant.
When a new sprout starts appearing on the pruned stem, a weekly application of soluble fertiliser 20:20:20 NPK @ 2 grams per litre may be applied at a weekly interval.
For healthy growth and flowering, plants need to be fertilised regularly at least in an interval of 15 days throughout with a low dose of NPK 20:20:20 @ 2 grams per litre of water.
Beware of pests
Pests like thrips and aphids (as shown in middle photo) pose a serious damage, both to the foliage and the flowers. For effective control, add 'phorate' granules of 4-5 grams per sq m of the beds, along with manure. It can also be controlled by spraying chlorpyrifos @ 2 ml per litre. Fungal attacks like 'black spot' or 'botrytis blight' make the flower soggy and do not let the flower bloom. To check this, spray Bavistin @ 2 ml per litre.