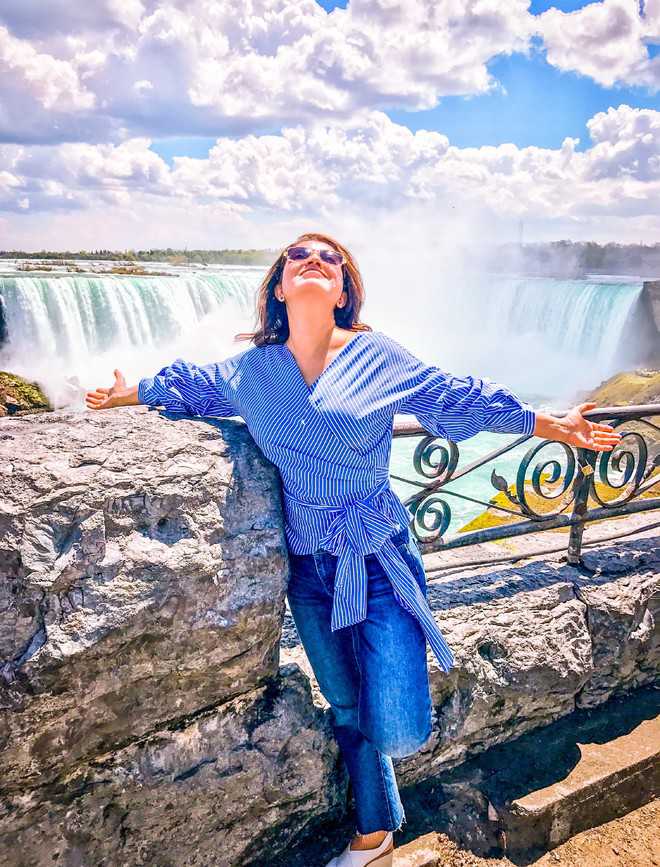 editorial@tribune.com
A moment, a cause
Dia Mirza
This image was recently shot, at Ranthambore National Park, by me. The tiger is a metaphor for nature. Tiger forests perform invaluable services like provide water, clean air, sequester carbon, enrich soil and provide sustainable livelihoods. Protecting and connecting tiger forests will ensure our health and progress. Happy Photography Day!
Abstract connection
Tisca Chopra
You are the universe and it is you. Even as you are in it and you are it. I am the river and the trees and the breeze and the mountains… I always was, I am now and I am forever. I am the eternal traveller. This is my photo at Niagara Falls, shot by my brother Mayur Arora, that's why I love this picture.
High on nostalgia
Samir Kochhar
It's a very special moment with my wife Radhika. We both went for a Sunday brunch in 2013. We went to the same place after 10 years, the place where we first met.
Of priceless bonds
Arjun Bijlani
It's my favourite picture because it shows how happy I am with my son. I shoot heavy schedules and miss playing with him. After a long time, we had gotten our father-son time and did swimming together. It's not just a picture, it's a memory imprinted on my mind of his happiness.
Nature is true luxury
Jasmin Bhasin
I am a wanderer, I love traveling and this particular picture was taken by my friend when I took a short break after returning from a reality show shoot for which I was out of the country for more than a month. This picture has me lost in nature under the blue sky with greenery, something we all wish for but don't get it every day.
That special 'first'
Sharad Malhotra
This particular picture was taken when our families met and talked about our impending marriage and engagement. She came to visit me on Holi and we actually met as a couple who were soon to be engaged. This was our first Holi together and I will cherish that day forever.
Top Stories