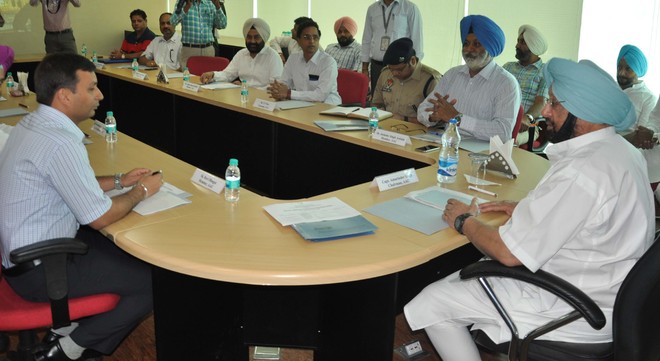 Neeraj Bagga
Tribune News Service
Amritsar, September 10
Congress deputy leader in the Lok Sabha and Amritsar MP Captain Amarinder Singh today assured the members of the Airport Advisory Committee of taking up the matter of starting more international flights from Sri Guru Ram Dass Jee International Airport, Amritsar, with the Ministry of Civil Aviation.
Captain announced this after getting response from the Airport Advisory Committee, which met today under his chairmanship at Sri Guru Ram Dass Jee International Airport.
The quarterly advisory committee meeting was overdue for the past one year. Various development projects at the airport complex, besides different issues concerning the airport administration in connection to the district administration were raised in the meeting.
Amarinder said while he welcomed the building and developing of more airports in the state, this must not be done at the cost of existing ones.
Later, while talking to mediapersons, he said, no doubt the facilities at the Amritsar airport had improved during the last 10 years, the paramount issue was the operating of more flights, particularly to the foreign countries.
He said he was very much in favour of building and developing airports at other places such as Mohali and Chandigarh, but that must not be at the cost of the existing airports like the one in Amritsar.
Captain said when he was the Chief Minister, he had facilitated the operation of international flights from the Amritsar airport.
The Amritsar MP said he would soon meet the Union Civil Aviation Minister and would bring the problems at the Amritsar airport to his notice and seek remedial measures.
His priority will be to ensure operation of more international flights from here, particularly to countries such as the UK and Canada, he added.
A delegation of taxi operators also met him and urged him that the stay time for the taxis be increased from five to 10 minutes.
Airport director Venkateshwar Rao said the meeting was very fruitful and all its 11 members, including the chairman, met for the first time after it was constituted as per the new guidelines of the Ministry of Civil Aviation, a month ago.
He said the Amritsar airport offered world-class facilities to its passengers and it required more direct international connectivity to improve its image globally. He hoped that it would also improve its cargo facility.
Top News
Chennai airport operations suspended from 9.40 am to 11 pm
Group of militants on their way to Myanmar ambushed by anoth...
Court of Inquiry ordered to ascertain the cause of accident
Punjab MP was suspended on August 11
The report was mentioned in business list at number 5 in the...