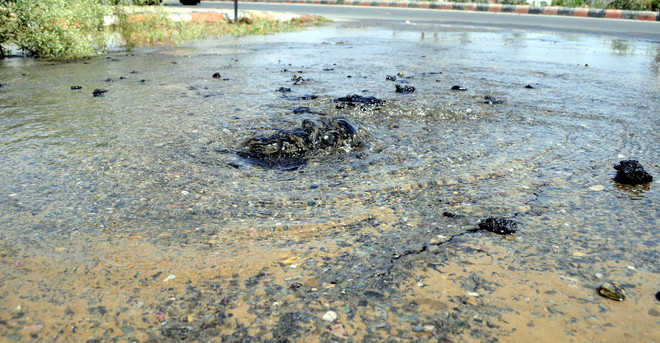 Tribune News Service
Amritsar, June 2
A large number of people residing in the area from Putlighar to Kabir Park locality are at receiving end as they are getting contaminated water supply for the past few days.
Fearing an outbreak of water-borne disease, residents of the area have urged the Municipal Corporation authorities to rectify the problem as soon as possible. They also demanded action against erring officials for the lapse, which has led to the breakage and leakage from the main water supply pipe.
Anu Bhardwaj, a resident of Guru Arjun Dev Nagar, said the water supply remained snapped for a couple of days earlier this week. She said after that when the water supply resumed, it was contaminated with sewage water. "The water is emanating foul smell," she added.
Ravneet Kaur, another resident, said the people were forced to buy water bottles from shops as the government water supply was unfit for consumption. She said, "Water being supplied for the past couple of days is stinking. Absence of any alternate arrangement has made our life miserable."
Residents said the MC authorities should fix the responsibility of persons responsible for the lapse, besides questioning the department concerned in this connection.
Officials of the Municipal Corporation said that they had received a number of complaints of contaminated water supply. Workers were on job to repair the damaged water supply line, they added.
Vijay, executive engineer, operation and maintenance wing of the MC, said the main water supply line was apparently damaged by workers involved in construction of the BRTS project in the area. He said officials concerned were on the job and looking where the problem lay. It would be solved soon, he added.
Top Stories