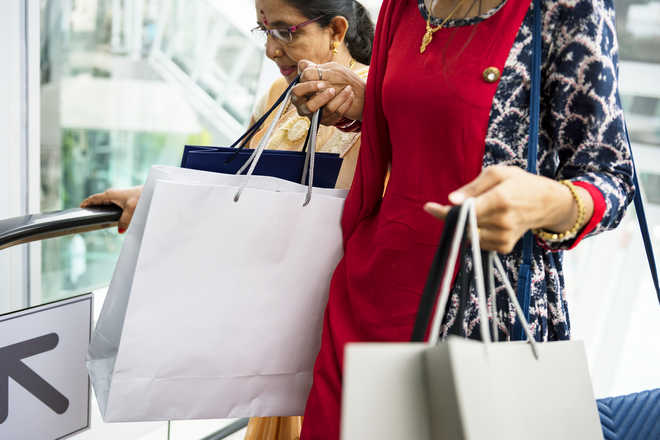 Tribune News Service
Chandigarh, October 18
Charging Rs 18 for a carry bag proved costly for a retail store. The Consumer Disputes Redressal Forum has directed Big Bazaar in two complaints to pay a penalty of Rs 10,000 each for wrongly charging Rs 18 each for carry bags.
Complainant Santosh Kumari of Sector 15, Panchkula, said she bought items from Big Bazaar (opposite party) on March 20 and took these to the billing counter. The cashier told her that she would be charged Rs 18 for a cloth bag to carry the items. The complainant said nowhere was it mentioned that the store would charge for a carry bag. Alleging unfair trade practice on the part of the store, she filed a complaint.
In its reply, the store pleaded that there was nothing wrong in charging the amount from the complainant for the cloth bag as the same was displayed in the store.
The forum observed: "The store has miserably failed to produce on record any cogent, convincing and reliable piece of evidence in the shape of any rules/instructions authorising it to levy charge additionally for the carry bag from the gullible consumers."
"If the cashier informed the complainant about the purchase of the carry bag before billing, the same amounts to unfair trade practice and deficiency in service as it would have been inconvenient for the complainant to carry the items in hand. In this backdrop, charges for such things (cloth bags) cannot be separately foisted upon the consumers and would amount to overcharging," stated the forum.
"...The opposite party is penalised with a cost of Rs 10,000 to be deposited in the Consumer Legal Aid Account," said the forum.
It also directed the store to refund to the complainant the amount of Rs 18 wrongly charged for the carry bag, to pay Rs 1,000 towards compensation for harassment and mental agony and to pay Rs 500 as litigation expenses.
In a similar case, the forum penalised the store with Rs 10,000 to be deposited with the Consumer Legal Aid Account and to pay Rs 1,000 as compensation and Rs 500 as litigation expenses to complainant Baldev Raj, also a resident of Sector 15, Panchkula.
Top Stories