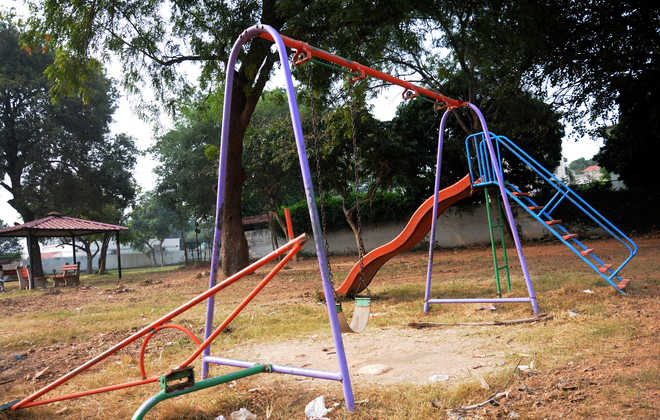 Sandeep Rana
Tribune News Service
Chandigarh, November 15
With 2019 coming to an end, most councillors have failed to utilise about 50 per cent of their ward development fund with Mayor Rajesh Kalia emerging as the least spender.
There are four councillors, who have a whopping nearly Rs 1 crore unspent fund, hitting development works in their areas. Rajesh Kalia has the highest unspent amount of Rs 1.12 crore. However, he was able to exhaust almost the entire Rs 2 crore discretionary fund as Mayor (one-year term). This fund can be used in any ward other than the Mayor's own ward.
Councillor Satish Kainth remained the second-least spender with an amount of Rs 1.05 crore lying unspent. Councillor Rajesh Kumar Gupta also lagged behind with Rs 1.01 crore lying unspent. Councillor Farmila also wasn't able to spend Rs 99.05 lakh from the fund.
During the five-year tenure, each councillor earlier used to get Rs 40 lakh per year to spend on development works in his/her ward. Approval for it is not required from the General House as it is approved at the level of the Chief Engineer only. For the first two years (2017 and 2018), the councillors got Rs 40 lakh each. However, it was doubled in 2019. Thus, in the current year, they got Rs 80 lakh each. For the remaining two years of the five-year term (2020 and 2021), they will get Rs 80 lakh per annum. The funds get carried forward to the next year till the five-year tenure ends. Funds that remain unspent after five years lapse.
With councillors failing to utilise a major portion of the funds in three years, it has cast a shadow on whether they will be able to exhaust all funds in the remaining two years in which they will each get a total of Rs 160 lakh more.
Federation of Sector Welfare Associations of Chandigarh chairman Baljinder Singh Bittu said, "Councillors should get proactive. Rather than wasting money only on putting up tiles, they should spend the amount on necessary things. Before spending, they should consult local residents. Infrastructure such as lawn tennis and basketball courts should be set up."
Councillor Kainth said, "They were not approving funds due to a financial crunch even though a number of works are lying pending in my ward." Mayor Rajesh Kalia said, "Some councillors could not spend their funds as there was shortage of money earlier. Now, we have got the funds and will expedite development works."
MC Commissioner KK Yadav said, "Works of councillors were never stopped for want of funds. The Chief Engineer has clear-cut instructions to do the work." MC Chief Engineer Shailender Singh said, "We will carry out works under the ward development fund on priority."
---
Ward development fund — Rs 80L/annum
During the five-year term, each councillor earlier used to get Rs 40 lakh per annum
The fund was doubled to Rs 80 lakh per annum this year