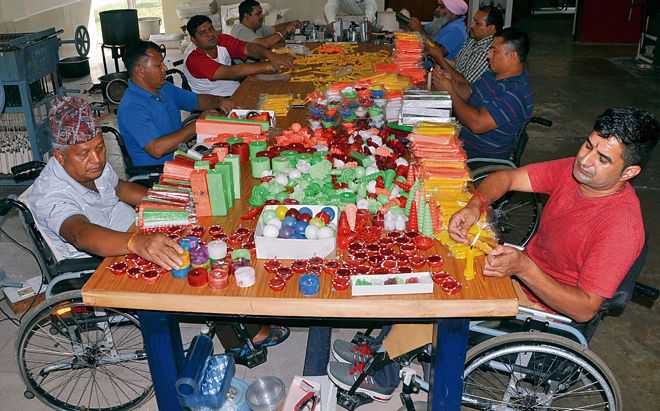 Akash Ghai
Tribune News Service
Mohali, October 22
Candles and diyas (earthen lamps) made by differently abled soldiers at the Paraplegic Rehabilitation Centre (PRC) at Phase 6 here will light up many a home in the region this Diwali. Such items, worth about Rs 5 lakh, have been made by the inmates of the centre, which are being marketed for the public.
"These soldiers, who suffered 100 per cent disability in the line of duty and are now wheelchair-bound, are producing designer candles and decorative diyas in the workshop at the PRC. They are receiving a good response from local residents," Col Gurkirat Singh (retd), Director, PRC, said.
Established in 1978, the PRC is a charitable institution that undertakes rehabilitation of paraplegic and tetraplegic soldiers and provides them therapeutic facilities and vocational training in various fields to make them economically self-sufficient.
At present, 30 ex-servicemen and their families are residing in the PRC. Former defence personnel, including Subedar AK Jha, Havildar Sarwan Sngh and sepoy Anil Karki, said preparing such items gave them relief and happiness. "It gives us immense happiness when people, who come to buy these items, appreciate our hard work. We have several permanent customers, who visit us every year to purchase these items," said one of them.
More recently, PRC inmates have also started manufacturing uniform pullovers for students of Army Public School, Dagshai, and Sainik School, Kunjpura. "The profit earned from the sale of these items is distributed among the inmates," Colonel Gurkirat said.
Being on wheelchairs has failed to dampen their spirits as many inmates have made a mark in the sports arena. They have participated in a host of national as well as international competitive sports for the physically challenged, including table tennis, basketball and para athletics.
Two inmates, Ajit Kumar Shukla and Mohammad Lateif Bhat, have made it to the 14-member wheelchair basketball squad for the upcoming Asia Oceana Zone (AOZ) Championship and the Tokyo 2020 qualifying round at Bangkok, Thailand. They are preparing for the forthcoming events at the PRC here.
Lt Gen RP Singh, who recently took over as the General Officer Commanding-in-Chief, Western Command, also visited the PRC last month to take stock of its activities and discuss measures to ensure the welfare of the inmates.
Top Stories