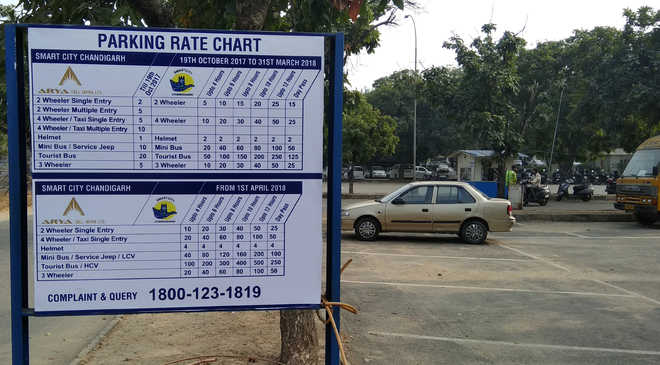 Sandeep Rana
Tribune News Service
Chandigarh, November 14
Smart parking lots in the city still remain on papers. Missing yet another deadline of providing smart parking system in the City Beautiful, the company managing 25 paid parking lots has extended the date of providing smart parking facility from November 18 to December 1.
With the Mumbai-based firm — Arya Toll Infra Limited — announcing a new date to start the facility, parking charges too will not be doubled from November 18.
At present, Rs 2 and Rs 5 are being charged for two-wheelers and four-wheelers, respectively, barring three parking lots — outside Piccadilly in Sector 34, Fun Republic in Mani Majra and Elante in Industrial Area — where the charges are double.
In the last meeting, MC councillors and officials had directed the firm to implement the smart parking facility by November 18 or pay Rs 7.5 lakh penalty per month for further delay.
"From November 15, we will do the inspection of the paid parking lots. If it has been implemented, then only we will raise the parking fee from November 18," said MC commissioner Jitender Yadav.
"In a meeting held two days ago, it was decided that after the inspection was completed on November 18, we will get 10 days to implement the smart parking facility. So, it will be started on December 1," said Sandeep Bhora, project coordinator of the company.
He said the work on installing CCTV cameras and launching a mobile App was almost done and only final touches were being given to other works, which would be completed in a few days. Central server at the MC has been set up.
The firm, which is managing 25 parking lots other than the multi-level facility in Sector 17, had bagged the three-year contract from the MC for Rs 14.78 crore on May 26, but it missed several deadlines to convert ordinary parking lots into smart facilities. The firm is paying the total amount in installments.
Under the smart parking system, there has to be a central server of CCTVs at the MC office from where the company staff and civic body officials will be keeping an eye on parking attendants. Besides, e-ticketing machines and boom barriers have to be there.
A mobile application to provide the status of parking availability in real time and booking space is also not launched so far.
Top News
Deal expected to be complete by March 2024 | Tata group owns...
In his first major foreign policy speech since taking charge...
Actor Anupam Kher condemns Nadav Lapid's controversial remar...
Gilon also pulls up Indian social media users doubting the h...