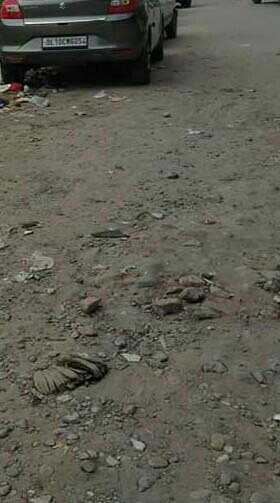 Sandeep Rana
Tribune News Service
Chandigarh, November 14
In what shows irregularities in road works on which the Municipal Corporation (MC) spends crores every year, a stretch recarpeted in Mani Majra 11 months ago has broken. The road was recarpeted after 22 years.
MC Commissioner KK Yadav has marked an inquiry into the incident. He has also ordered to blacklist the contractors stopping road works.
During the General House meeting today, councillor Jagtar Singh apprised the Commissioner of a broken road in Mani Majra. He said, "Following much efforts, the road could be recarpeted after a long 22 years. Residents were shocked as it broke in 11 months. It is nearly a 2-km stretch between Thakurdwara and Shanti Nagar in Mani Majra. A whopping Rs 1.50 crore to Rs 2 crore were spent on it."
While talking to Chandigarh Tribune later, the councillor said the MC Commissioner had marked an inquiry into the matter and a notice was served on the contractor.
Yadav said, "I have marked the matter to the official concerned with a direction to compile a report."
Councillors also raised questions over road works left midway at several places on account of non-clearance of work bills of contractors.
On this, Yadav replied that bills of only about Rs 2.50 crore pertaining to the road wing contractors were pending and there was nothing new in it. "Bills of this much amount used to be pending earlier too, but there is no reason to stop work over it. If any contractor stops work, then blacklist it," the Commissioner told the road wing officials. During the House meeting, Yadav reprimanded Road Division Executive Engineer Dharminder Sharma over road works having stopped in the area under his jurisdiction. Councillor and former Mayor Davesh Moudgil sought to know from the Commissioner where Rs 50 crore meant for road recarpeting work in his tenure has gone?
The Commissioner later apprised the House that a fresh list has been prepared under which pending works of 2017-18 and 2018-19 will be done first at the cost of Rs 47 crore. "Roads requiring urgent repairs will be the priority," he added.
The MC got Rs 15 crore from the Administration for road recarpeting last month, but owing to slow pace of work and several formalities, residents could not see much improvement in the condition of roads. Commuters continue to have a bumpy ride in several parts of the city. Of the Rs 150 crore announced for the MC a few days ago after a delegation of all-party councilors, led by Mayor Rajesh Kalia, met Badnore, Rs 50 crore are meant for road recarpeting.