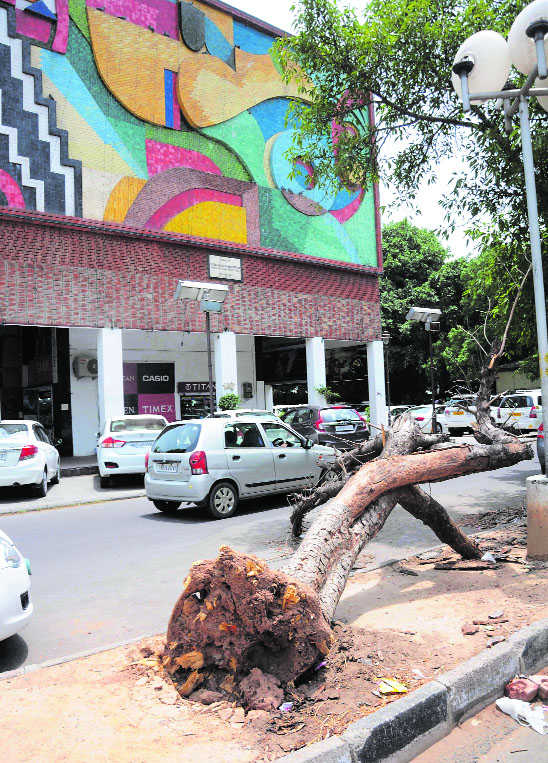 Ramkrishan Upadhyay
Tribune News service
Chandigarh, June 11
The Sector 17 is all set for a makeover as the administration has decided to implement a plan for the revival of the commercial hub from this year.
Sources said the plan under active consideration of the administration will be implemented in one go after getting approval of VP Singh Badnore, Governor of Punjab and Administrator of UT, who is keen to make the Sector 17 one of the most vibrant areas of the city.
A gazebo, food court, amphi theatres, more fountains and transportation facilities for visitors from the parking area to the nearby sectors are some of the features that Badnore has asked the officers to include in the revival plan during his visit to Sector 17. The sector will be developed on the pattern of the Connaught Place of Delhi.
Sources said a rejuvenation plan of Sector 17 include five major projects which include urban park, a five star hotel, a convention centre, revival of the 11 storey building envisaged by Le Corbusier and shifting of the government offices from the main area.
While the tenders for the urban park near bus stand and underpass connecting Sector 17 with the Rose Garden have been floated, the approval is still required for the other projects.
The Chandigarh Heritage Conservation Committee has already discussed the plan. The convention centre and big luxury hotel have been proposed on the circus ground and its nearby areas. A new office for the Deputy Commissioner is also proposed. There is also a plan to shift the only residential area of Sector 17 to make the way for the transit accommodation for the tourists.
The plan also includes the redevelopment of the existing building with shifting the offices to some other places.The plan has been prepared with the aim of developing Sector 17 as a hub of activities and city centre where the residents of the city, nearby areas and the tourists come and enjoy a number of recreational activities.The plan covers landscaping, designing, transportation, parking, management, lighting and architecture conservation. Increasing the connectivity to Sector 17 from all corners, rejuvenating the unused areas, increasing the recreational activities, changing the use of the buildings, and ensuring free and smooth walk for pedestrians.
Sources said it had been proposed to connect Sector 17 with Sector 9, 18, 22 and the Rose Garden. An underpass has been proposed to connect Sector 17 with the Rose Garden. An urban park is to come up in the area of approximately 8 acres between bus stand Sector 17 at a cost of Rs 8 crores The park will be developed as the centre of different activities and people could use it for meeting and other purpose.
Top News
The talks between the two foreign ministers will be held on ...
Action after security agencies flag data leak, extortion
The 29-year-old Harvard Law School student, who has been inv...
3 posers daily, Congress steps up attack