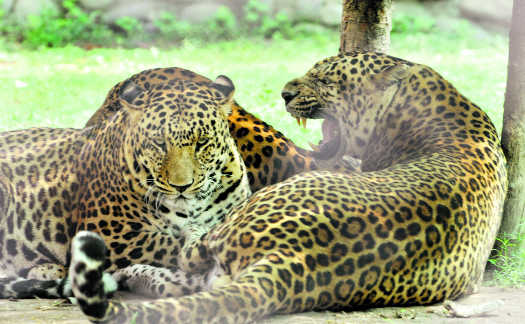 Mohit Khanna
Tribune News Service
Chandigarh, May 21
If everything goes as planned then Chhatbir Zoo will become a hotspot for adventure enthusiasts.
The authorities of Chhatbir Zoo are working on a eco- tourism project to provide first-hand experience of forest to wildlife lovers.
According to officials, though the project is at a nascent stage but it is part of the project conceptualised to turn Chhatbir into a complete holiday destination.
As per blueprint of the plan, the zoo authorities will take the visitors through the forest for around 2.5km.
After finishing tracking, they will reach the bank of river Ghaghar where they will be offered facilities that one gets at a beach.
The visitors can enjoy games, including beach volleyball. Further arrangements will be made on the river bank to offer food and beverages to the visitors.
And not only this, the Zoo authorities are also planning to refurbish the forest rest house of Bhupinder Singh, Yadavindra Singh the erstwhile ruler of the princely state of Patiala, and grandfather and father of current Chief Minister Capt Amarinder Singh.
Sources said the wall of the rest houses would have photographs of the princely rulers and write-ups about the historical importance of the place.
Harpral Singh, Block Officer of the zoo, said the work on the project had not been initiated yet but, "certainly it is part of our future expansion plan," said Harpal.
He said the forest area alongside the Chhatbir Zoo offers a lot of scope for wildlife enthusiasts, particularly photographers. It is home to various animals, including Dears, Nilgai and other animals.
The department sources said the project would involve nod from various other departments which could be a cumbersome task.Harpal while confirming said," Naturally the project will require no objection certificate from various departments. First the Irrigation Department has to approve this project and allow using their land for sports and other recreation activities. We have to chalk out a plan from security point of view," said Harpreet.He said if the project materialised it would attract many tourists from the northern region and offer them first-hand experience of nature and the habitat in which the wild animals live.
---
Nocturnal section to open soon
The zoo authorities are planning to open a nocturnal section of the zoo to provide first -hand experience to visitors. Here one will be able to see animals in the evenings. The idea has been conceptualised keeping in mind the rising temperature. The zoo timing for visitors is from 9am to 5pm. However, due to the rising temperature, many visitors avoid visiting the zoo. To attracts visitors, the authorities are planning to extend the timing till 7pm. Harpal Singh said the proposal had been sent for approval.
.
Top News
Cane growers will get Rs 391 per quintal, says Bhagwant Mann
Polling draws to a close | Counting of votes on Dec 3
The data showed Punjab had only four days in 2023 where fire...