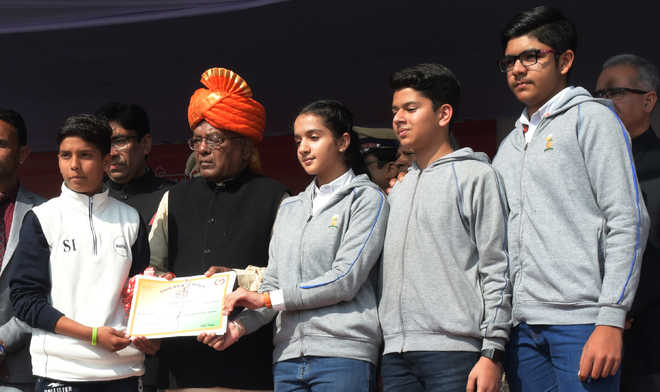 The Gurukul, Panchkula
The district administration, Panchkula, honoured three students of The Gurukul, Panchkula, on Republic Day. Nitansh Singla and Harshita Makhija were honoured for their national-level achievements in skating, while Anmol Kaushik for his national-level achievements in cricket.
Satluj Public, Panchkula
Satluj Public School, Panchkula, organised a farewell party for Class XII students. The programme began with an invocation, followed by speech of Director-Principal Krit Serai. The outgoing batch presented speeches and a song. A modelling session was also held for Mr & Ms Satluj title. Co-Principal Reema Serai presented awards to the winners.
GMHS-38, Chandigarh
Republic Day was celebrated with enthusiasm at Government Model High School, Sector 38-D, Chandigarh. The ceremony began with the hoisting of the Tricolour. This was followed by speeches and songs. Head of the institution, Madan Lal Kashyap, urged the students to do their best.
Shishu Niketan, Sec 43, chandigarh
Shishu Niketan Public School, Sector 43, Chandigarh, organised an intra-class English story-telling competition under the theme of 'Panchatantra stories'. The students narrated stories using props.
Shemrock, Sector 69, Mohali
Shemrock Senior Secondary School, Sector 69, organised a career-oriented workshop for students of Classes VIII to XII. Entrepreneur Manjula Salaria and novellist Ketan Bhagat were the key speakers. Manjula encouraged the students to develop life skills such as decision making, problem solving and critical thinking, while Ketan gave real life examples from to explain his points.
Aanchal International, Chandigarh
Aanchal International School, Chandigarh, organised a creative-writing competition to mark Republic Day. Children were asked to pen down their thoughts on different rights and duties that they thought were necessary.
Paragon Convent, Chandigarh
Paragon Convent School, Sector 24-B, held its annual function. Students of Classes I to IV presented theatrical and musical plays based on different novels. Director Sunderpreet Sandhu graced the occasion. Principal Rajni Dutta read out the school's annual report.
Manav Rachna, Mohali
Manav Rachna International School, Mohali, celebrated Republic Day with enthusiasm. The celebration began with a prayer followed by a patriotic song by the school choir. Students of Classes VI and VII shared important facts about culture, relevance and importance of the Constitution. A general awareness quiz was also conducted.
St Xavier's, Panchkula
The junior wing of St Xavier's High School, Panchkula, organised a Hindi poetry recitation contest, 'Kavyanjali'. Students recited poems with passion. Headmistress Cynthia Shear appreciated the voice modulation, gestures and expressions of each participant.
Shishu Niketan, Panchkula
National Girl Child Day was celebrated at Shishu Niketan Public School, Sector 5, Mansa Devi Complex, Panchkula. Competitions such as slogan writing, poster making and painting were held. Saplings were planted and a talk show on health and hygiene management was also organised.
Valley Public, Panchkula
Valley Public School took out a rally to promote the 'Beti Bachao, Beti Padhao' programme. Teachers and students actively participated in the rally. A slogan writing competition was also conducted.
St Joseph's, Chandigarh
St Joseph's Senior Secondary School, Sector 44-D, Chandigarh, organised a farewell party for Class XII students. The event began with the honouring of students, followed by Mr and Ms Josephite rounds with segments of ramp walk and question round. All-rounder trophy was bagged by Harmanpreet Singh and Prabhnoor Singh of humanities.
Shivalik Public, Chandigarh
Shivalik Public School, Sector 41, Chandigarh, organised an event to mark National Girl Child Day. Ryan International School, Sector 49, Shishu Niketan School, Sector 43, Ajit Karam Singh School, Sector 41, and Bhavan Vidyalaya School, Sector 27, also participated in the event.