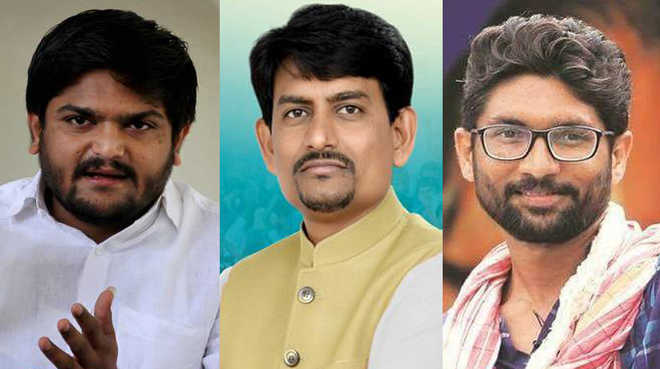 A fight seems to be on in Gujarat after three successive walkovers. There is a visible difference this time. The contest does not appear to be shaping up into a BJP-led narrative about a defence of Gujarati sub-nationalism, pride and asmita versus a defensive Congress-led lineup. Instead fresh faces, who ironically emerged during Narendra Modi's three-year stint as Prime Minister, may inject some much-needed verve to the Congress campaign. Three youngsters, one of them not yet eligible to contest elections, all with different political trajectories and all singed by the BJP's political handling of Gujarat after Modi moved to Delhi.
The threesome — Jignesh Mewani, Hardik Patel and Alpesh — have been independently mobilising their respective caste brethren, ostensibly for social causes. This is what makes the Congress' task tough to bring them unreservedly into its party umbrella. With long political careers ahead of them, it is natural for them to play hardball. But Congress vice-president Rahul Gandhi's patient mediation appears to be bringing them around. Jignesh, a Dalit and mentored by Marxist-activist Mukul Sinha, won't contest on the Congress symbol; the more well-known Hardik is waiting for the Congress to provide concrete assurances on reservation for the Patels while Alpesh, though a firebrand, is of Congress stock.
However, hard bargaining lies ahead and the lineup doesn't factor the usual dirty tricks employed by an incumbent party which has a proven past record of using the police and intelligence agencies against its rivals. Rahul Gandhi has the Election Commission to thank for delinking Himachal Pradesh from Gujarat and thus affording him time to enter into extended confabulations with the youngsters. But Gujarat is no Bihar where the castes aligned with the now-defunct Mahagathbandhan had no serious contradictions with each other. The BJP swept all Lok Sabha seats in 2014; it remains organisationally very strong. It is an unequal battle of resources — and, grievances and resentments. Political skills will compete with social aspirations. A defining battle seems to be on the cards.
Top News
Had complained to PM Modi about the activities of Brij Bhush...
Section 124A of the Indian Penal Code dealing with sedition ...
The postings and transfers of the officers have been made on...
Singh, in a Facebook post, said he has postponed the 'Jan Ch...
The representatives of various khaps and farmers' outfits re...