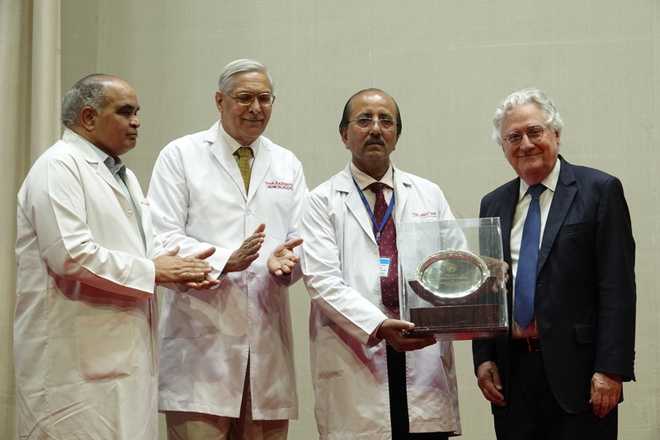 ROBINSINGH@TRIBUNE.COM
Mohit Khanna
Tribune News Service
Chandigarh, July 16
While doctors in India abstain from writing generic composition of the medicines, it is mandatory for doctors to prescribe 80 per cent generic medicines in France. This was stated by Prof Loic Guillevin, Emeritus Professor of Medicine and Therapeutics, Cochin Hospital, University of Paris Descartes, during an event to mark the PGI's foundation day here on Monday.
Prof Loïc Guillevin was the chief guest during the foundation day celebrations of the PGIMER. He delivered a lecture on 'The Adventure of Rare Diseases: Care and Clinical Research'.
Guillevin is a world leader in the field of vasculitis, a group of diseases caused by inflammation of the blood vessels. To overcome this challenge, he had set up a collaborative French vasculitis study group in 1981.
He said the high price of a drug was no parameter to substantiate the quality of medicine. "It has been noticed that in several cases, cheaper drugs are more effective than the expensive ones," said Guillevin.
He advocated the clinical or pharmacology evaluation of medicines before they were thrown for sale in the market.
"Nowadays, we are observing that big companies are buying start-ups which invent less costlier and effective drugs. We always know how a drug works positively for a particular ailment, but we get to know about the side effects at a later stage. We do not want clinical or pharmacology evaluation to become a hindrance in the invention of drugs, hence the evaluation should be made a part of the trial to avoid side effects," said Guillevin.
He said low price of medicines make treatments affordable in India whereas in European countries, the treatments were expensive due to the patent conditions.
Earlier, PGIMER Director Prof Jagat Ram introduced the chief guest and informed the audience about the latest developments in the institute. He said over the years, the PGI had witnessed a spectacular expansion in quality patient-care, academic programmes and relentless upgrade of technology.
The PGI was chosen the best hospital of the country by the British Medical Journal and second best by The Week magazine. The Government of India has twice selected the PGIMER as one of the cleanest hospitals of the country.
The PGI authorities also honoured the staff and doctors who had shown exemplary courage and saved the lives of several patients during the fire incident which took place at an operation theatre (OT) and spread to a hospital ward a few months ago.
Those who were honoured for their outstanding service included Dr Shiv Lal Soni, Assistant Professor, Anaesthesia; Nasib Singh Minhas, OT technician, Anaesthesia; Kiran Bala, technical assistant (Lab), Medical Microbiology; Harish Ahuja, personal assistant; John Paul, senior nursing officer, ATC (Disaster Ward); Dr Kulbeer Kaur, nursing officer, Medical Microbiology; Hukam Singh Bhandari, office superintendent; Narinder Kumar Prarthi, senior technical officer; CA Pankaj Talwar, purchase officer; Sulinder Kaur and Anita Rani, senior nursing officers; Jaswant Singh, upper division clerk, Engineering Department; Dr Ashish Singh Aditya, senior resident, Anaesthesia; Parul Parihar and Bandna Devi, OT assistants; Jitendra Kumar Verma, nursing officer; Dr Kamaldeep Singh, junior resident; Rajesh Kumar, fire officer; Sanjay Kumar, fire-cum-security guard; OP Sharda, ex-Registrar; Narinder Singh Rawat; Mohmad Imran; Sudhir Kumar; Kulwinder Singh, hospital attendant; and Naresh Kumar, stenographer, Vigilance Cell.
Cities