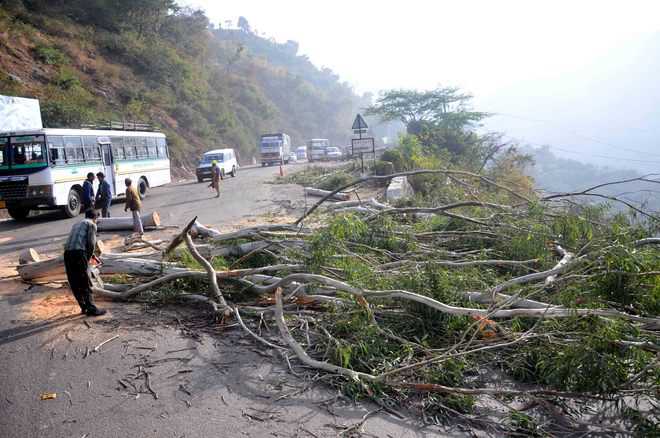 Ambika Sharma
Tribune News Service
Solan, August 3
The Forest Department has planted about 70,000 saplings of various medicinal and other species over an area of 123 hectares in lieu of axed trees for the four-laning of the Parwanoo-Solan stretch of the National Highway-22.
The forest staff has undertaken this plantation over an area of 42, 41 and 40 hectares land in Jangeshu, Subathu and Dharampur areas, respectively, till July 31. Since plantation activities are undertaken in the rainy season the staff has been raising nurseries for the last one-and-a-half years to meet the requirements. Divisional Forest Officer Ashok Chauhan said the remaining target of eight hectares would also be achieved soon as the nurseries had adequate stock.
"Keeping in view various factors like sustenance of plants and their utility various medicinal and hardy species have been planted which include kachnar, siris, bamboo, amla, bhera, daru, chil, kainth, jamun, etc. The saplings planted are more than one-and-a-half-year old", stated Pawan Achal, Forest Range Officer, Dharampur.
The National Highways Authority of India (NHAI) had earlier deposited Rs 3.02 crore for plantation with the Compensatory Afforestation Fund Management and Planning Authority (CAMPA) as per the provisions. This fund is supposed to be utilised for undertaking afforestation over an area of 131 hectares of degraded land and the land size is supposed to be double the forest land lost in the four-laning project.
Thousands of trees were axed in September last year. The saplings planted now will take several years to attain adequate growth to act as a buffer to offset the adverse environmental impact. The survival rate of the saplings was another point of concern which needs to be taken into account while assessing the success of such plantations. Suresh Kumar, a climate change expert, said the plantation activities should be undertaken as soon as a project is approved so that the purpose of afforestation is achieved.
Top Stories
Bhagwant Mann is AAP's CM candidate for Punjab polls
Arvind Kejriwal announces his candidature
Bhagwant Mann a compromise candidate for AAP: Sukhbir Badal
Says today's event a desperate PR exercise to make Mann acce...
Illegal sand mining: Enforcement Directorate raids multiple locations in Punjab, including that of CM Channi's relative
19 locations in the state are being covered
ED raids on CM's kin an assault on Punjabiyat, voters will answer: Congress
Surjewala, Harish Choudhary allege Modi-Kejriwal tango in Pu...
Arvind Kejriwal targets Charanjit Channi over illegal sand mining following ED raids
The AAP supremo was speaking to the media in Chandigarh