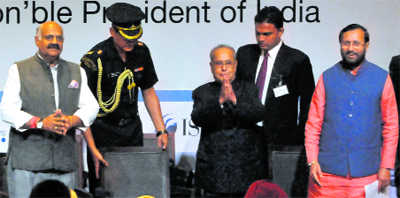 Akash Ghai
Tribune News Service
Mohali, November 20
"Don't be a job seeker, be a job giver," President Pranab Mukherjee exhorted young minds here today.
The President was speaking at a function of the Indian School of Business to mark its 15th anniversary on the Mohali campus this evening.
The President, accompanied by Union Human Resource Development Minister Parkash Javadekar, Punjab Governor VP Singh Badnore and noted industrialists Adi Godrej, also chairman of the Executive Board, ISB, and Sunil Kant Munjal, chairman of the Mohali Campus Advisory Board, planted "Triveni" (trinity) saplings on the Mohali campus, unveiled a plaque and released an ISB stamp to mark the occasion.
The President, who was evidently upset the over "not-up-to-mark standard of many of the over 753 universities, over 36,000 colleges and other institutions, said in the past 85 years, no product of an Indian university could win a Nobel Prize while doing research in an Indian university. "This is a matter of concern," said Mukherjee.
He said there was no scarcity of talent or creative minds in India, but what was lacking was a conducive atmosphere in educational institutes. "I have noticed a trend of mushrooming of poor quality institutions. Mere physical expansion of the academic infrastructure is not what we want," said the President.
The President called upon the young minds not to be scared of taking risks or facing challenges. "Once you have the capacity to face challenges, the solution will be at your disposal," he said.
Earlier, addressing the gathering, the HRD Minister lauded the ISB management and students for earning world-class recognition "due to the quality of education".
The ISB was set up in 2001 in Hyderabad and started its Mohali campus in April 2012. Over the years, the ISB has won several accolades such as the youngest school to rank among top global MBA programmes and the First South Asian Management School to receive the international AACSB accreditation.
Badnore said he was happy to know that the ISB was creating young leaders through its innovative programmes.
Earlier, Adi Godrej, Munjal and ISB Dean Rajendra Srivastava welcomed the President and other guests on the campus.
Top Stories