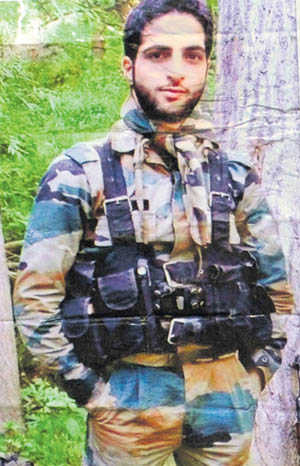 Azhar Qadri
Tribune News Service
Srinagar, July 8
Burhan Wani's six-year-long journey from a teenage boy who left home in 2010 to the most wanted militant 'commander' in the Kashmir valley brought 'glamour' to the region's militancy.
Wani (21) was killed in a gunfight in the Kokernag area of south Kashmir this evening. The first image of his corpse showed his bloodied face.
His killing has dented new-age militancy as it will be hard for it to find a new poster boy whose images and videos can become instantly viral across the region.
Wani joined militants in October 2010 and operated in the forest of Tral sub-district. A resident of Sharifabad locality of Tral, Wani was initially tutored by his cousin and militant 'commander' Adil Mir.
He was made 'commander' of militants following Mir's killing in 2014. He instantly became the face and voice of a new generation of Kashmir's militants which relied little on Pakistani backing and counted heavily on local support.
Wani made a mark on insurgency by introducing its largely anonymous and underground ranks to the public through social media.
Wani's image first got leaked into the public domain in May 2013 when a militant, mistaken to be him, was killed in a forest near south Kashmir's Tral sub-district.
The accidental leak of his images made Wani the poster boy of insurgency. For the past three years, he made its optimum use. His images and videos gave militants a new face and a new voice and generated sympathy and support for them.
Last year, Wani made a video statement in which he imitated the style and monologue of global 'jihadi' groups and called for establishment of a caliphate.
He featured in pictures with other militants, images which became viral in the age of social media and gave a new lease of life to militancy.
Wani is believed to have led very few militant attacks himself, but his social media presence made him the most known face in Kashmir.
From October 2010 to July 2016, Wani survived nearly six years as a militant, changing the dynamics of militants that looked hard for security agencies to reverse.