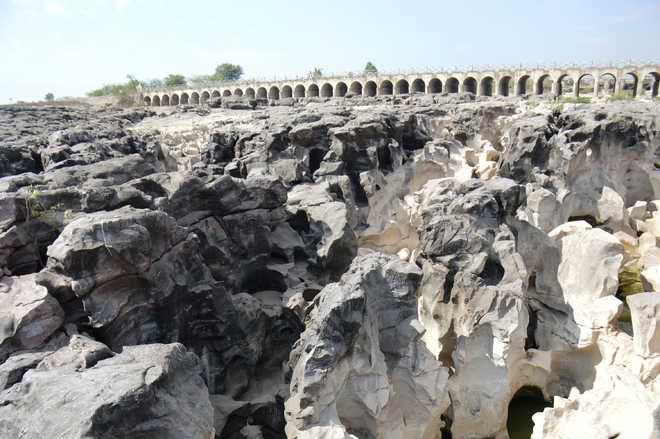 Khursheed Dinshaw
Getaway options in Maharashtra like Mahabaleshwar, Matheran, and Lonavala are quite popular, but the state also has some hidden gems like Nighoj, Vadu and Fort Jadhavgadh, which are within a radius of 85 km from each other. Here is why these make for unique getaways:
Nighoj: Sculpted by nature
Once you park your vehicle in Nighog (90 km from Pune), you need to walk to get to the riverbed, and that's when the 'wow' moment happens. The riverbed and its walls have fascinating formations of potholes as far as the eye can see. Believed to be Asia's largest potholes in a river, these are formed when pebbles carried by the Kukadi river are swirled around, resulting in eroding the riverbed rocks.
Nighoj resembles a steep stone gorge, which has been sculpted by nature to form interesting shapes and crevices resembling half moons, lamp shades, pickle and golf balls, zig-zag designs, layered modern art and graphics. Villagers call these potholes kunds and the goddess is referred to as Malaganga or Kundmauli.
Her brightly coloured temple is located on the banks of the Kukadi river. There is a bridge near the temple from which one can get a panoramic view of the potholes.
Vadu: An unequal battle
Vadu has the samadhi of Chhatrapati Sambhaji Maharaj, who was the elder son of Chhatrapati Shivaji Maharaj. Sambhaji was the second king of the Maratha empire and he is known as Dharmaveer (the protector of dharma). It is believed that he never lost a battle with his enemies.
In his quest to destroy the Maratha state, Aurangzeb unleashed his army's full strength, which at the time was probably the largest land army in the world. Sambhaji led the Marathas against the Mughals, though it was an unequal battle as Aurangzeb's army was eight times larger. Sambhaji fought valiantly without giving a single major victory to the Mughal emperor. When Aurangzeb was unable to defeat the Maratha king, he resorted to deceit. Sambhaji's samadhi is simple. He doesn't need ostentations, his actions have spoken and he has left his indelible mark in history. Aarti is done daily at 7.30 am.
Fort Jadhavgadh: A royal tour
This fort, 30 km from Pune, is a sublime restoration of 18th century Maratha nobleman Pilaji Jadhavrao's fort. While its walls echo with valour, royal traditions are carried out even today and include performing an aarti at the 310-year-old Ganesh Temple. Here Ganesha is adorned with vermillion, beating of drums, blowing of the Marathi tutari and the mahadarwaja (big gate) opening and closing ceremonies. An audio tour of this heritage haven reveals Maratha architecture: be it in the woodwork, uneven rocky steps, tunnels, jharokhas and dungeons, including one which is believed to have been used by Pilaji Jadhavrao and his men.
Pilaji Jadhavrao taught Peshwa Bajirao about warfare and many of Peshwa's lessons and weapons practice were conducted at Fort Jadhavgadh. Payatha restaurant offers authentic Marathi dishes like Kombdiche saar, Kothimbir wadi, murgh Kolhapuri tikka, bharleli vangi, Mutton tambda rassa and pithla bhakari. A local woman prepares fresh bhakaris and puran polis.
The Aai museum displays household items used by mothers, along with other artefacts, which were used 400 years ago in India. The museum also has one of the world's biggest locks. Other activities at the fort include draping yourself in a nauvari (nine yard) sari with jewellery and barahbandi or the 12-knotted kurta for men, playing traditional games like gilli danda, kanche (marbles) and lagori. Accommodation is also available within the fort and ranges from maharaja, maharani and bajirao suites to premium hill view kholis or rooms.