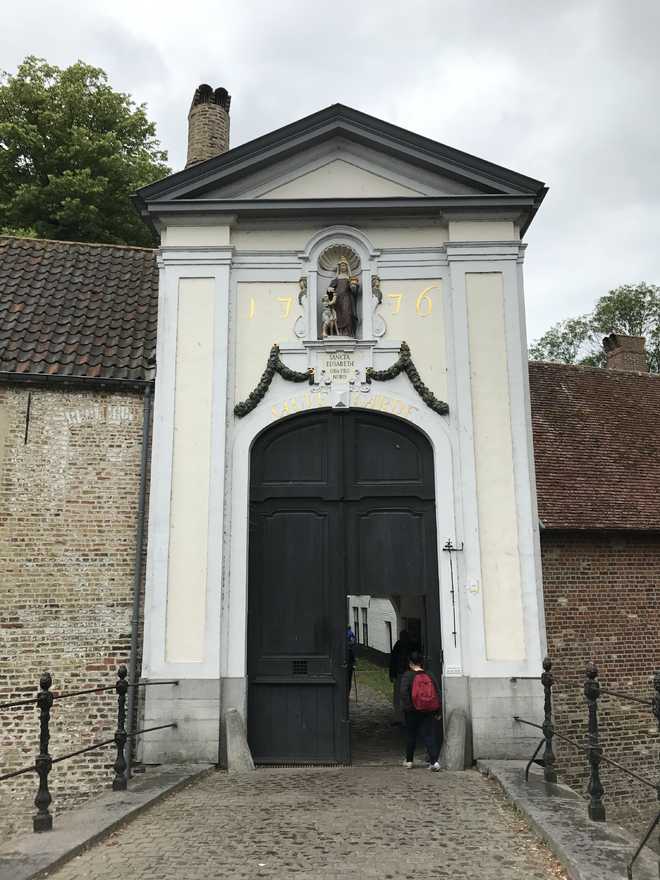 Ananya Bahl
Past the horse-drawn carriages and romantic corners of Bruges, past its endless waffle shops and canal tours, in a quiet, almost-clandestine corner is an oasis. A refuge far from the hullabaloo of tourist traffic. In a sense, it retains its former identity — that of a peaceful haven, an abode for those who want something different. A short walk from Bruges's Swan Lake is the Béguinage or "Begijnhof", as it is called in Flemish. Founded in 1245, this complex was a habitat for the beguines — liberated women of those times who chose to live a celibate, not necessarily religious, life on their own terms.
These enclosed complexes that are scattered all over Belgium's Flanders region are collectively titled the "Flemish Béguinages" and have found a spot for themselves on the Unesco World Heritage Site list. Although the movement doesn't exist today, they perfectly display the culture and architecture of the béguinage way of life that gained momentum in the Middle Ages. This béguinage in Bruges is called the Princely Béguinage of the Vineyard, and it displays a layout that's typical of such complexes: replete with houses, churches and sprawling lawns that reflect tranquillity. It's often touted as the most silent location in Bruges' bustling city centre and is one of the best preserved of all the béguinages.
The beguines were lay women who were Roman Catholic. They weren't a part of the clergy. All they desired was to be independent and live life on their own terms. In the Middle Ages, that was a problem as women weren't exposed to much freedom. These beguines were not part of a sisterhood that vowed chastity and a pious way of life. They did pray and attended to the sick and poor. Often, they are considered, by some historians, to be the widows of men who perished during the Crusades — single women who congregated together to live under self-appointed head. Bound by rules of the béguinage and a presiding female authority in the complex, these women worked hard for their livelihood and could choose to couple this with a religious lifestyle. Some of these women were quite liberated when it came to worship: they developed their own mystic ways of reaching out to the world beyond, adding to the aura of copious suspense surrounding the béguinages. Another feather in their cap of liberation was the fact that a béguine could decide to leave the order for marriage, or otherwise whenever she felt called to.
Over the years, opportunities for women across Europe increased, making these communities dwindle considerably. Today, this béguinage in Bruges houses an order of Benedictine nuns. The estate is filled with white-washed buildings punctuated by lush lawns, abounding with daffodils and poplars that're in full bloom during spring. It's one of the most photographed of all the béguinages — Belgium is home to 29 such establishments, the highest number for any country. There is a museum on the grounds for those interested in learning more about the béguinage and its day-to-day functioning. For art buffs, the Baroque church is a remarkable sight, along with an altarpiece painting of St Elizabeth by the 17th-century Bruges master Jacob van Oost the Elder.
With time, this place, and the stories of the béguines and their lives captured the fancy of many, young and old. So much so that Sir Winston Churchill also couldn't escape its mysterious charms. Gaining inspiration from the béguines, he created a painting of the place, as though he were immortalising its message of liberation and independence on canvas — and in his heart — forever.