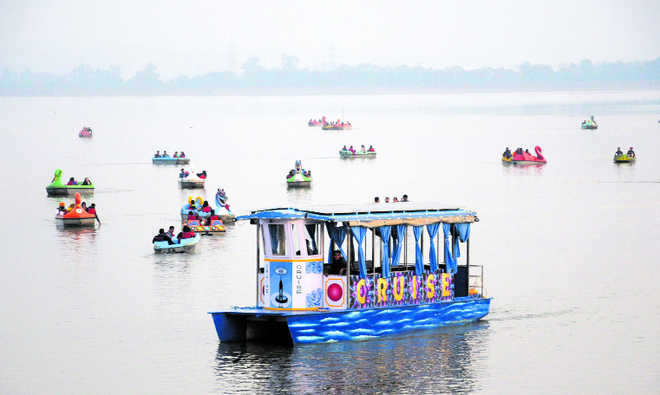 Ramkrishan Upadhyay
Tribune news service
Chandigarh, December 27
While the solar mini-cruise ship introduced by Chandigarh Industrial and Tourism Development Corporation Ltd (CITCO) in Sukhna Lake is attracting tourists, its high rates are putting off a majority of them who want to enjoy the ride.
CITCO has recently introduced a solar mini-cruise ship in Sukhna Lake.
It is charging Rs 300 per person for half-an-hour ride in the lake. Sumit Kumar, who has been a regular visitor at the lake, said the rates should be lowered from Rs 300 so that maximum numbers of tourists could enjoy the cruise which was definitely a noble idea.
He said charging Rs 300 per person was a costly affair. A normal family of four members cannot afford to take a ride on the cruise.
CITCO has introduced the cruise with an aim to attract more tourists at the lake which is the most visited tourist spot in the city. CITCO has introduced the cruise on a trial basis and after watching the response it is planning to buy more of these.
Vijay Sharma, general manager, who is looking after the lake said the people were appreciating the solar cruise. He said as far as the rates were concerned it had been fixed keeping its high cost of maintenance.
CITCO has introduced the project on a revenue-sharing trial basis with the firm which is also running the amusement entertainment park at Sukhna Lake The mini-cruise ship has a capacity to carry 25 persons. CITCO is planning to run the project for three to four months to see the response.