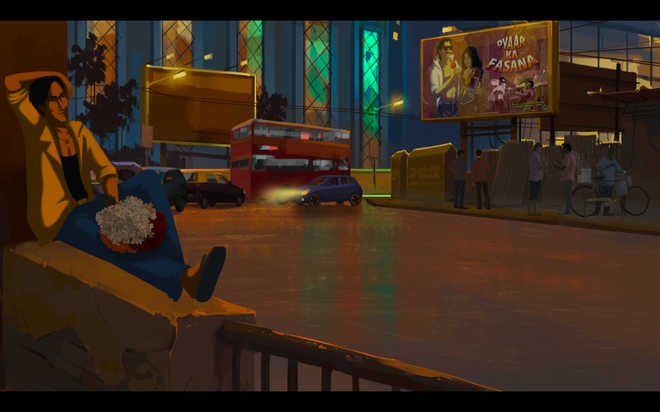 Gautaman Bhaskaran
Call it coincidence or whatever, the fact is India will open the Venice International Critics' Week the second time with Gitanjali Rao's animated film Bombay Rose. The Critics' Week runs alongside the upcoming Venice Film Festival, which rolls on the picturesque Lido Island, off mainland Venice.
Debut feature film Bombay Rose will have a strong fantasy element — given its form of narrating a story through painted imagery. This is quite similar to the Indian title, Tumbbad (though live action), which opened the festival last year. Directed by Rahi Anil Barve and Adesh Prasad, the supernatural thriller told the story of a man and his son, and how greed destroys them.
Interestingly, the Critics' Week, once showcasing social themes and artistic rebellion, seems to have stepped into the magical. Painted by Rao frame by frame, Bombay Rose outlines the life of a flower seller, Kamala, who has to make a choice between her family and love — Salim, a troubled Kashmiri youth who comes away to Bombay (now called Mumbai). Kamala has also had a stormy past, having escaped a child marriage at her hometown in Uttar Pradesh. And, of course, there is Shirley, an Anglo-Indian woman, and the movie weaves in and out of the inter-personal relationships of all three.
Rao, who has made five animated shorts, including Blue, Printed Rainbow, Orange and Chai, clinching three awards at the Cannes Critics' Week — has, perhaps, created through her Bombay Rose, a powerfully heart-wrenching work that talks about all that is problematic in today's India. Child marriage, inter-religious feuds and Kashmir turmoil, for instance.
The film is set in 2005, the year dance bars were banned in the city. In an interview, Rao said: "I was fascinated by the tawaif culture, and had observed several bar dancers while travelling in the trains late at night.
"I had also always been interested in the uncelebrated actresses of cinema, and always wondered what happened to them. I wanted a character who was a background dancer in old Hindi movies. The story of Shirley gave me a way of exploring this theme".
The other Indian film, Sanal Kumar Sasidharan's Chola or Shadow of Water, will be part of Horizons or Orizzonti, the second most important section after Competition at the Festival. The film is a magical realist drama about the nightmarish experience of an adolescent schoolgirl and her teenage lover as they set out on a journey to the city.
Shadow of Water is one of the 19 titles in Horizons that will compete for four prizes, including that for best feature. In a way, similarities may be drawn between Shadow of Water and Sasidharan's earlier outing, Sexy Durga or S Durga.
Hitchcockian in feel, S Durga follows two young fleeing lovers on a lonely night on a desolate road, and their confrontation with a motley group of unsavoury characters. The film went on to win the Tiger Award at Rotterdam — but not before it got into trouble with Indian censors, who forced the director to change the title to S Durga!
Earlier, Sasidharan made An Off-Day Game, a gripping psychological adventure played out by a group of friends — who get all sozzled up with a tragic consequence.