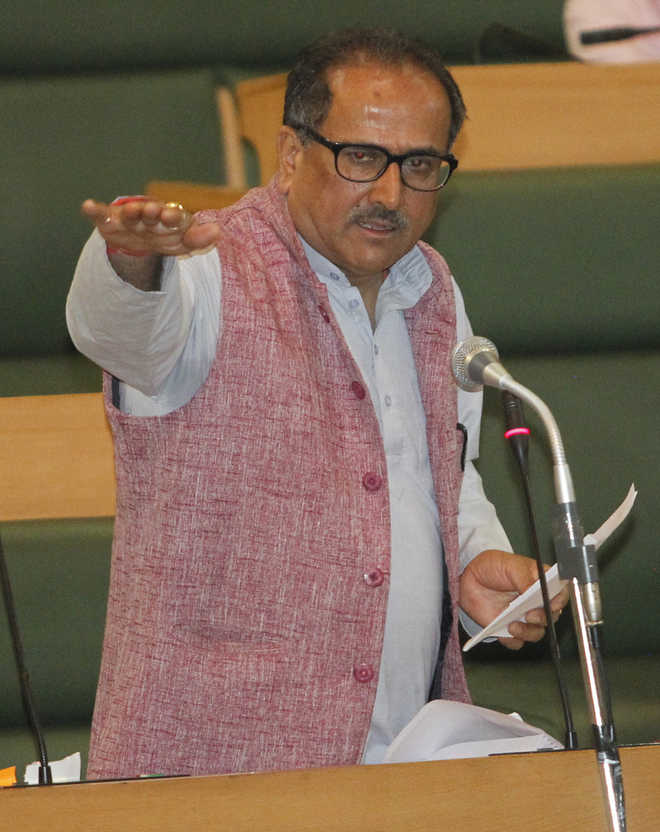 Tribune News Service
Srinagar, July 15
In a sign of fresh fissures within the PDP-BJP coalition, Deputy Chief Minister and BJP's top leader in the state government Nirmal Singh has rebuffed the PDP's demand for a court of inquiry into the encounter that led to the killing of Hizbul Mujahideen commander Burhan Wani in south Kashmir's Kokernag area last Friday , saying, "it was an anti-terrorist operation, and that should be understood in clear terms."
Nirmal Singh was reacting to PDP's senior leader and MP Muzaffar Hussain Baig's statement on Thursday, questioning the methodology of the encounter, which he alleged was in violation of a Supreme Court ruling. He accused the security forces of not having followed standard operating procedure in the July 8 encounter, the pitfall of which has resulted in three-dozen deaths, mostly of youngsters.
The Deputy Chief Minister told The Tribune, "We are very clear that this was an anti-terrorist operation, a proper FIR has been registered in the local police station (Kokernag). There is no need of inquiry as it would complicate matters. We cannot allow any move that would demoralise our security forces who are operating in difficult times."
However, he observed, "at the moment, our primary focus is to ensure that there is no further loss of life and peace is restored at the earliest."
"If there are other issues (on the fallout of the killing of Burhan), those can be looked into," he said.
Baig had said in a statement, "The gunfight in which Burhan was killed was carried out in violation of Supreme Court guidelines."
"As per the Supreme Court judgment whenever an operation is carried out, a magistrate has to be taken along. Then in his presence, the militants have to be appealed in local language to surrender. If the militants refuse to surrender, then tear gas has to be fired, so that militants come out where they are hiding. If, it doesn't work, then militants have to fired on lower parts of the body. And I don't think these guidelines have been followed by security forces. "
He had asked Chief Minister Mehbooba Mufti to order a probe.