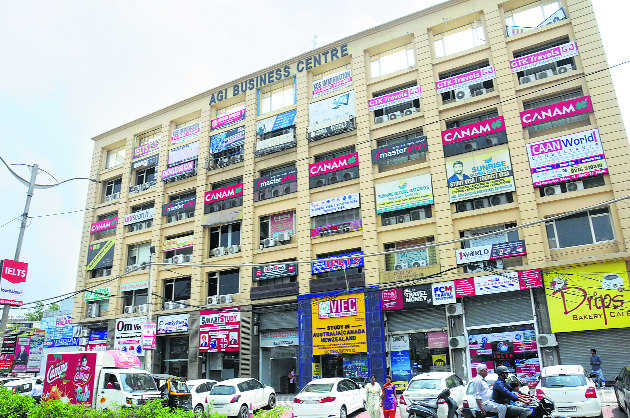 Deepkamal Kaur in Jalandhar
If there is a sector that has seen a boom in Punjab in the last few years, it is the immigration sector. There are as many as 946 licensed immigration companies, visa consultants, IELTS centres and air ticketing companies in the NRI hub of Jalandhar alone, with at least three times more people illegally engaged in the work in the city.
An ever-increasing number of immigration firms has led to stiff competition, forcing them to innovate with their offers, the most popular being 'Pay fee after visa approval'. Social media too has become an important tool with video testimonials of new and successful aspirants being flashed on a daily basis. Central city area near the bus stand houses most immigration firms, their windows decked up with LED screens shouting out: 'Apply UK study visa, with or without IELTS, no old funds required, spouse can go along'.
While Punjab is already sending nearly 1 lakh students abroad each year, companies in Jalandhar have found a new market: the neighbouring state of Himachal Pradesh. "Plus Two passouts from Una and Hamirpur are coming to us in large numbers to seek advice on immigration and take courses in IELTS," says Navneet Singh, who runs a foreign consultancy service here.
As trends change
Immigration in Punjab began with courses in nanny training about 15 years ago, followed by cabin crew training and then nursing. However, as Canadian colleges opened their doors to Indian students, all earlier modes of immigration disappeared. Citing reasons like prevalence of drugs, rising unemployment, increasing incidents of violence and terrorism, state of affairs in the country vis-à-vis better social security abroad, youth are making a beeline to reach foreign shores and become, what they fondly call, 'Pucce Canada wale'.
Needless to say, immigration business is making all the sense too. The immigration firms get a brokerage of 10 per cent per student from the universities where the students seek admission. To save themselves of taxes here, these companies have started depositing this brokerage amount in their branches abroad. "Thus, they save 18 per cent GST and 33 per cent income tax levied by the Indian government. In case the firms don't have offices there, they have bank accounts. As such, India faces double loss," explains one of the top players in the field.
Interestingly, some foreign companies, like IDP Education and AECC Global, have set up branches in Jalandhar. While they operate here, their funds are stacked abroad. Locals are following suit. Kamal Bhumla, chairman of the Association of Consultants for Overseas Studies, says his son has done BBA from Canada and has now set up an office by the same name in Brampton. "Once abroad, the students need consultancy on extension of student visa, work permit, etc. So, my son handles that bit now."
Inward remittances fall by 15 pc
A senior official of a foreign exchange company says the inward remittances have fallen to a large extent. "If Punjabi youth abroad were sending in an estimated Rs 90,000 crore annually back home till last year, there has been a drop of at least 15 per cent this year. It is not easy for the students to cope up with studies and work at the same time. Though Canada allows them to work for 20 hours a week, they are not able to bear course fee and the cost of living. Many of them have to ask their parents back home for money. Sometimes, even after completing their studies, they end up doing odd jobs. If they somehow land a good job, they start looking for a car, own house... In short, the trend of children sending remittances to their parents is fast dwindling," he says.
Sarabjit Singh of Nawanshahr, whose daughter is pursuing BCom in Canada, feels girls require more money for living abroad than boys. "We have seen young boys save lodging money by staying in warehouses. This suits the employers also who expect them to wake up at odd hours in the night for loading and unloading works. Rent of an average room costs $300 and it is common to see eight to 10 boys share a room. As such, their cost of living comes down a lot. The arrangement cannot work for girls who need a decent place to live. Generally, only two to three girls share a room and the average accommodation cost comes to $100 per month," he says.
Parents back home face a tough time. They take loans to send sons and daughters abroad in the hope of returns soon, but things may not go their way. Bholath resident Manjit Kaur's son has been in Canada for five years. She says, "Things have not panned out the way we had expected them to. We had taken a loan of Rs 10 lakh from our relatives and Rs 4 lakh from the bank for him, but have not been able to return even a penny to our relatives; the bank loan is also being repaid by us. We had thought that we will start getting returns when his studies would be completed three years later. However, we are still bearing his expenses." The son has also not been able to find a job matching his qualification and is doing menial work, that too off and on. "To continue staying there on work permit, he has to show that he is working with a firm. The 'salary' supposedly earned by him, $300 annually, is being paid by us. I do not know when the fortune will turn in our favour," she says.
Six-band module comes a cropper
A minimum of six bands for each module of IELTS has come as a major cropper, especially for rural students seeking student visa to Canada. Sukant Nain Trivedi, ex-president of the Association of Consultants for Overseas Studies, says, "Ever since Canadian government changed its rule to make six bands compulsory in each module of IELTS, the number of students facing rejections has increased manifold. Many Punjabi students have not been able to clear the language tests even in eight attempts after having spent Rs 70-80,000 on the course and exam fee."
He says that as per estimates, about 85,000 Punjabi students have gone to Canada on study visa so far this year. Another 15,000 have opted for Australia, England, New Zealand, Dubai or Cyprus. "Australia too has been beckoning students for a while, but only genuine students, who are given just six-month work permit after completion of the course. The country is somewhat expensive than Canada too when it come to fee and cost of living, but it surely offers bigger dividends too. For example, a BTech student in India spends Rs 10 lakh on studies and has to eventually move to a metro city for job. If one has to settle in a metro city like Bengaluru, why not abroad? In either case, the child will come home only once a year but will be earning at least three times higher in Canada," says Trivedi.
Meet the new applicants
After students, it is the turn of the teaching faculty to immigrate abroad. Gurpinder Singh Samra, principal of Lyallpur Khalsa College, Jalandhar, says most young assistant professors hired by the college in the last few years have taken NOC from the college for applying for Permanent Residency in another country. "All of them intend to take up a two-year course abroad to match their standards, acquire a job and ultimately settle there with their families. If this trend goes on, I can foresee that it is going to become difficult for me to get a good new teacher for the college in two years' time. And there will soon come a time when there only will be the elderly in Punjab."
Not just professors, even bank managers are common new applicants for IELTS courses and Canadian visa. "Shunning the status that they hold here, they are ready to restart their lives in Canada even if they have to work as clerks in their banks," says Bikram Singh Rana, an immigration consultant.
Brexit effect: UK is hot again
According to some immigration firms, the UK has once again started giving admissions to Indian students in its universities. "About 100 universities in the country have opened admissions for Indian students. At our centre, we assist the students in preparing documents and readying them for Skype interviews. We have been able to send quite a few students to the three UK universities we are working with," says Gundeep Singh who has been in the business for 18 years.
He says England was a preferred destination earlier too. "But, in 2012, the UK government shut down many colleges labelling them as fake as they were not meeting the norms." Following that, the students had to come back and Gundeep quit the profession. However, when he got to know that the UK government is once again keen on Indian students, especially in the wake of Britain's impending exit from the European Union, he restarted his firm. "In the last one year, I have been able to send 100-odd students to England. A few of them have even got scholarships on the basis of their sports achievements here," he says.
Top Stories