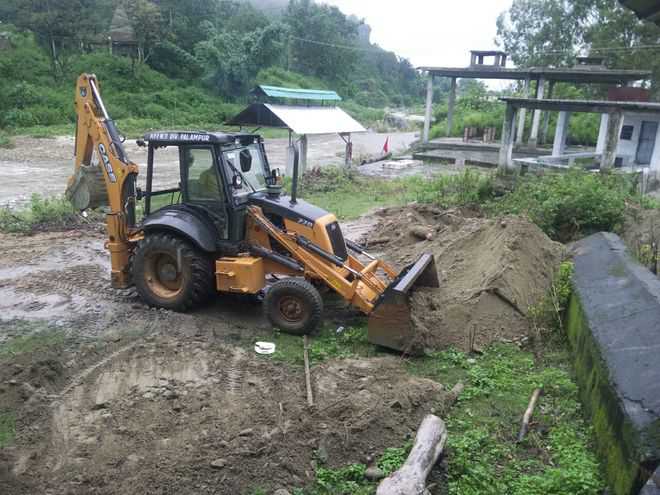 Our Correspondent
PALAMPUR, August 12
Local administration along with heavy police force dismantled the roads constructed by mining mafia leading to illegal mining site in Neugal river near Paror today.
SDM Palampur Ajit Bhardwaj had received complaints from the residents of Sulaha area that illegal mining was going on unchecked in Neugal river near Paror damaging local paths, water channels, roads and cremation grounds.
The SDM along with the DSP and police force arrived on the spot and dismantled the roads constructed by the mining mafia to reach the riverbed with the help of JCB machine.
Bhardwaj said by the time he reached the spot, those engaged in mining had fled along with their tractor trailers. He said illegal mining was not only resulting in large-scale environmental degradation but also causing loss to the state exchequer as the mining material was being lifted without paying royalty to the state government.
He said as courts had banned mining in Neugal river, no one would be allowed to indulge in illegal activity.
He had directed the police that if any person was found extracting mining material from Neugal river, his tractor trailers should be impounded and a case registered against him.
Top News
According to Rushdie's agent Andrew Wylie, nerves in his arm...
Natwar was Minister of State for External Affairs when Rushd...
All the four employees were dismissed from service under Art...
The exam was postponed for 11,000 candidates to accommodate ...
Had submitted resignation in Jan 2019 and floated his own po...