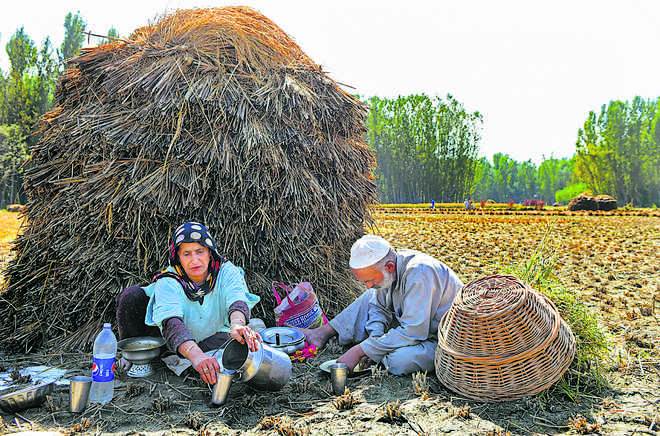 Majid Jahangir & Sumayyah Qureshi in Srinagar
It was J&K's special status that gave it a separate Constitution. And it was because of this separate Constitution that the state government could implement a historic land reform like 'land to the tiller'. It divested the aristocracy of land and transformed the lives of rural masses. That's one reason why Jammu and Kashmir has the lowest poverty rate in India and every family has a house.
ALSO READ: Who can & cannot buy land in Himachal
With the scrapping of Article 370, the fear is that it may open the floodgates for people from outside the state, including industrialists. Land is an emotive issue in Kashmir and it just not about property. In 2008, when the government transferred land to the Amarnath shrine board, the Valley erupted and 56 persons were killed in protests spread over three months.
Kashmir has scarce land and resources and it is a perfect place for industrialists to invest, but for any investment, peace is a prerequisite.
Of the total geographical area in ecologically fragile Kashmir, 51 per cent is forest area. According to experts, there is not much land in the Valley and there is a possibility that if any industrialist decides to establish a unit here, he may have to look at environmental assets. "We have already consumed nearly 22,000 hectares of land in Kashmir in the past three decades by converting it into built-up areas," says environmentalist Athar Parvaiz. "If the government wants to establish any industrial unit, it will have to look towards environment assets like forest or wetlands."
Despite the current situation, the government has decided to hold an investors' summit in October in Srinagar to attract businessmen.
The reality on the ground is that non-local industrialists were never barred from setting up businesses prior to the scrapping of Article 370. "Taj Vivanta and The Lalit hotel have been operating here for so many years. The land was leased out for 90 years. Those who wanted to invest never had any problem of land, but almost no one invested here," says a businessman, adding that the lease was renewable and industrialists were leased out land at throwaway prices and better terms.
Before the scrapping of Article 370, people had apprehensions that New Delhi was trying to change the demography of the state. "Our apprehensions have proved right. It is now a question of our survival," says Omar Ajaz, a college student. "Their eyes are on our land and they want to turn us into a minority in our own land."
Srinagar resident Muneeb says it is not just about the land. "For us, it is a connect. Other people can come and coexist with us like they have for so many decades, but taking away our land is unacceptable to us." The Centre's view is, however, very different as it feels that Kashmir will prosper with the arrival of industry, especially in the tourism and IT sectors.
"Both sectors need lesser infrastructure and maybe, we see some investments in the coming year to begin with," says an official. "But then, the Kashmir situation is such that tourism will only flourish if there is peace and there is little hope of peace in the coming years."
Locals also point to the systemic erosion of trust. "How can we trust the Centre when it didn't take Kashmiris into confidence when taking a decision concerning them?" asks a Srinagar resident. "They will create colonies here. The land will become costlier. Within a span of five-six years, we will see major changes," adds Khalid, another local. "They will settle outsiders here and will make us irrelevant."
---
The View from Jammu
Big opportunity
No doubt, there are a lot of apprehensions among the people of Jammu but we, as a business community, see it as a big opportunity. The Centre should take some rational decisions to allay the fears of people with regard to their landRs — Neeraj Anand, President, Chamber of traders federation, Jammu
Fingers crossed
Locals are expecting that land rates will go up manifold as outsiders will come for business purposes. People have, for the time being, stopped selling land. The next few months are very crucial for the real estate sector — Rakesh Singh, Property dealer
Domicile certificate
Centre should introduce a process to have a domicile certificate, so only those get it who have been residing for a minimum of 20 years in the state, that too with a record of good character and nationalism. It will help conserving the Dogra riyasat and Dogra virasat — Kuldeep Sharma, BJP Leader