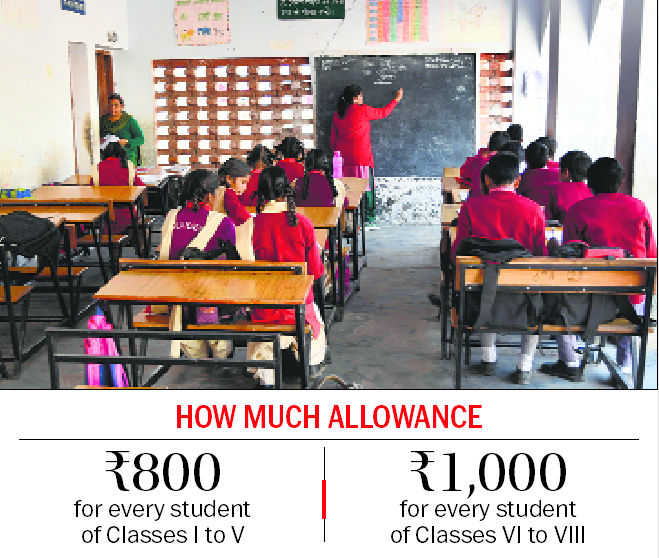 Bhartesh Singh Thakur
Tribune News Service
Chandigarh, February 12
An RTI query has brought out that in 2016-17, the state had released excess uniform allowance to the tune of Rs17.9 crore to about 1.99 lakh students of Classes I to VIII across the state, while many students did not receive the allowance.
In 2016, the Education Department had started crediting the allowance to Aadhaar-linked bank accounts of students. The uniform allowance is given for Classes I to VIII only. It is Rs800 for every student of Classes I to V and Rs1,000 for every student of Classes VI to VIII.
The Haryana School Shiksha Pariyojana Parishad (HSSPP), which replied to the RTI query, claimed that "due to computer software error, uniform grant was sent double to some students".
It further said the mistake happened in the information technology (IT) cell.
Panchkula resident Ajay Kumar Behl, who sought the information, said: "Someone must be handling the IT cell. The accountability should be fixed. The department is not providing information on the amount recovered so far."
Additional Chief Secretary (School Education Department) PK Das said, "The recovery will be expedited. The government will fix the responsibility for the lapse."
When the anomaly was detected in 2017, it was decided that the excess allowance would be adjusted for the 2017-18 session for Classes I to VII, which was Rs14.42 crore.
In case students leave the school, District Education Officers (DEOs) and District Elementary Education Officers (DEEOs) were directed on March 28, 2017, to issue school-leaving certificates (SLCs) only after the amount is recovered.
For Class VIII, the excess amount was Rs3.47 crore. Out of that, banks recovered Rs1.25 crore. Schools were directed to recover the rest of the amount at the time of issuing SLCs to students. The recovery is not yet complete.
The RTI reply also pointed out that several students enrolled in Classes I to VIII did not receive the uniform allowance. The number of such students was 4.75 lakh out of 15.26 lakh in 2016-17. The next year, the number was 2.29 lakh out of 14.77 lakh students.
The RTI reply listed out 15 reasons for the non-disbursal of the allowance. Some of them were Aadhaar numbers not mapped to account numbers, closed accounts, inactive Aadhaar numbers and Aadhaar numbers not available on the MIS (Management Information System) portal.
Recovery path
Excess allowance to be adjusted for the 2017-18 session for Classes I to VII
In case students leave the school, officers directed to issue school-leaving certificates (SLCs) only after the amount is recovered
For Class VIII, banks have recovered Rs 1.25 crore out of Rs 3.47 crore
Schools directed to recover the rest of the amount at the time of issuing SLCs