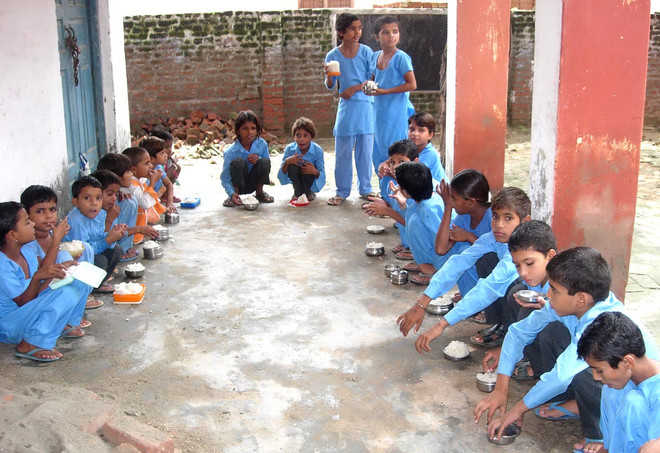 Nitish Sharma
Tribune News Service
Ambala, March 18
Students of nearly 31 government-aided schools in Ambala would not get mid-day meal from the next academic session. The Education Department has already absorbed the employees on aided posts of these schools and now, these schools will be run by the respective management.
There were 34 government-aided schools in Ambala. One school had been closed down, while two others are not taking benefits of the mid-day meal scheme. Students from Class I to VIII in the government and government-aided schools get mid-day meal.
In a letter written to the District Elementary Education Officers in the first week of March, the Director, Elementary Education, directed all District Elementary Education Officers to stop the supply of the mid-day meal to those government-aided schools whose staff had been absorbed by the government.
The letter was forwarded to the Block Education Officers in the district for necessary action.
Sudhir Kalra, BEO Ambala City, said, "A letter has been received in this regard and the schools from where the employees have been absorbed by the government would not receive the mid-day meal. Directions have been sought from the higher authorities regarding the pending budget, ration, cylinders and utensils meant for the mid-day meal with the schools."
The government used to pay 75 per cent of the salaries of the school staff and mid-day meal used to be provided, he said. The process started earlier this year, and headmasters, non-teaching staff, Class IV employees and then the teachers were absorbed in a phased manner and adjusted in government schools and offices of the Education Department, he added.
DEO Uma Sharma said, "Since these schools are not government aided anymore, the scheme would be stopped there. The employees who were on aided posts are now with the department and the schools would not get any aid."
Meanwhile, Kulbhushan Sharma, president, National Independent Schools Alliance, said, "Children from weaker sections study in private schools too. The government should not withdraw the scheme where it was already implemented. Besides losing mid-day meal, the students will now have to pay high fees. The government has secured the staff, but no attention has been paid towards the children."
Top Stories