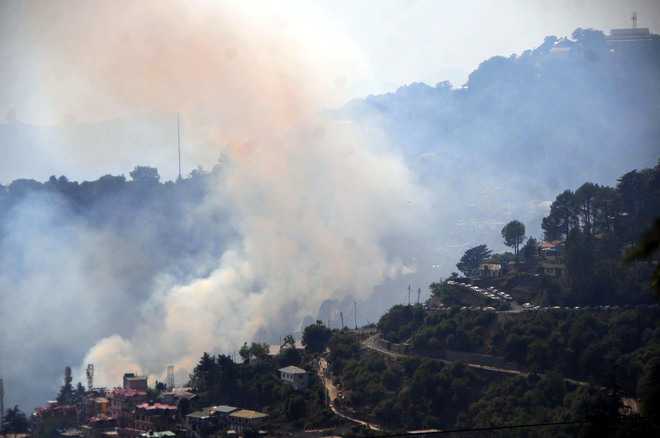 Bhanu P Lohumi
Tribune News Service
Shimla, June 10
Severe heat wave conditions continued in Himachal and Una, which recorded a high of 45.2 degrees C, the temperature it witnessed on June 21, 2005.
Shimla, the key summer tourist spot, recorded 30.3 degrees C, the highest in the past five years, and Manali 30.4 degrees C. The maximum temperature in Shimla was 31.4 degrees C on June 7, 2014, and 30.1 degrees C on June 10, 2017.
The mercury breached the 40.0 degree mark at most places in the lower hills, four to six notches above normal, forcing people to stay indoors and use fans to beat the heat.
Bilaspur and Hamirpur recorded 42.6 degrees C and 42.1 degrees C, while Sundernagar and Kangra saw 41.0 degrees C, followed by Mandi 40.2 degrees C, Bhuntar 38.2 degrees C, Nahan 37.8 degrees C and Solan 37.0 degrees C. Even Kalpa and Keylong in Kinnaur and Lahaul-Spiti were warmer with a high of 24.9 degrees C and 23.2 degrees C.
Earlier, the mercury would remain around 20-25 degrees C during the peak summer season and all hill stations above 5,000 ft were declared non-fan stations during the British rule, but today the people are forced to use fans.
Reckless felling of trees and rapid urbanisation of Shimla have contributed to the rise in temperatures, triggering forest fires.
Relief is expected from tomorrow as the local Met office has warned of thunderstorm, accompanied by gusty winds, in the lower and middle hills on June 10 and 11. It has predicted rain and snow in the middle and higher hills from June 11 to June 16.
The unusually warm weather has delayed sowing of maize and other kharif crops. Farmers in rain-fed areas are worried. Forest fires are causing damage to forests and bio-diversity.
Top News
In Mizoram, Zoram People's Movement is locked in close race ...
According to Defence Ministry, 98 per cent of the total proc...
India has constituted a probe team to investigate allegation...
Nikhil Gupta, 52, has been charged with murder-for-hire in c...
GDP growth in the first quarter of current fiscal — April-Ju...