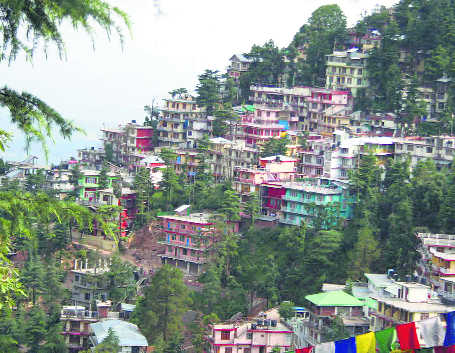 Lalit Mohan
A two-day workshop on Disaster Management to mark the 1905 Kangra earthquake anniversary was held at Government Postgraduate College, Dharamsala. The workshop was jointly organised by the Central University of Himachal Pradesh (CUHP) and State Disaster Management Authority and Himachal Pradesh Government.
Experts expressed concerns over the large numbers of illegal constructions coming up in McLeodganj due to the seismic vulnerability of the area.
Prof Ambrish Kumar Mahajan, the organising secretary of the workshop, said the main focus was to bring all scientists and academicians and stakeholders on one platform. Over 500 representatives from PWD, IPH, Health, Town and Country Planning, Smart City officials and Army cantonment Yol, National Disaster Relief Force (NDRF), NGOs, Mountaineering Institute and students, delegates from far-flung areas including Pangi and Reckong Peo participated in the workshop, he said.
He said experts from Wadia Institute of Himalayan Geology; Indian Institute of Remote Sensing; IIT Mandi; HIMCOSTE, Shimla; National Institute of Disaster Management (NIDM) delivered their presentations related to Kangra region. The workshop had four technical sessions on the seismic hazard status of Kangra region.
Prof Mahajan gave the detailed account of seismic hazard status of Kangra valley. He stressed on seismic micro-zoning of Kangra to illustrate as to which areas were comparatively more prone to seismic hazard. The vulnerability status of each region was specified in his study. Most of the presentation focused on disaster resilient efforts. There was big concern on haphazard construction from all corners. Experts pointed out that McLedoganj needs to be revisited for its vulnerability status. The building design and how to construct earthquake-resistant building in Himachal Pradesh was also presented. The applications of Information Communications and Technology (ICT) in disaster management were stressed in today's framework.
The dignitaries and delegates also participated in a procession to remember April 4, 1905, the day the massive earthquake struck Kangra killing 20,000 people. A two-minute silence was also observed. Dr Rajesh, health specialist and NDRF team led by deputy commandant Ravi gave representation on saving lives during any disaster.
CUHP Vice-Chancellor Kuldeep Agnihotri; Kamal Kishore, Member National Disaster Management Authority, New Delhi; Prof Harsh K Gupta, former member NDMA were the guest of honours.
Recommendations made
A white paper would be prepared on what action can be taken in the next 10 years to reduce earthquake risk in the state.
Need to identify seismic gaps and active zones in the state highlighted, so that monitoring, prevention and preparedness activities can be focused in such areas.
Development of dense network of GPS and meteorological network stations, so that the convergence rate can be measured allowing the state and scientific institutions to focus on more active and vulnerable areas.
The state may consider observing April 4 as awareness generation period. There is a need to dig out information available in various forms and prepare IEC material to communicate learning of the Kangra earthquake to the masses.
Need to prepare a repository of available maps, micro-zonation and other available research in the Himachal Pradesh State Disaster Management Authority (HPSDMA) website, so that it can be used by various government departments.
Need to make available scientific and technical information to the common man in the shape of maps, which may be revised on regular intervals.
The local institutions may conduct short-term courses for mapping of active faults. This will lead to research and compilation of important data for the state.
Need to put in place earthquake monitoring system in Himachal Pradesh on the pattern of Nepal and Uttarakhand. Such network will be useful in providing early warning of lead time in the event of occurrence of an earthquake.
Urgent need to revisit building bylaws of urban local bodies to make them updated and discourage the use of building soft stories which attract greater seismic forces.
Need to merge all seismic data at one platform and compile region-based database for the state.
The Wadia Institute of Himalayan Geology may share seismological network data with the government of HP/HP SDMA on a regular basis.