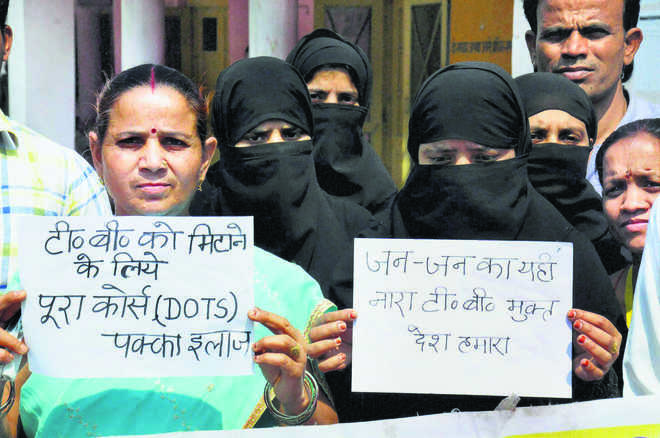 Dr Rakesh Kumar
Dr Rakesh Kumar
Additional Country Director, United Nations Development Programme
INDIA has witnessed an epidemiological transition wherein non-communicable diseases (NCDs) have overtaken communicable diseases as the most common cause of morbidity and premature mortality. Globally, India carries the highest burden of tuberculosis (TB) with 27 lakh new cases and more than 4 lakh deaths annually. While India is the diabetes capital of the world with 6.68 crore cases, NCDs contribute to more than 60 per cent of the total deaths in the country. Tuberculosis, a communicable disease, and NCDs are seemingly contrasting, but there are many interwoven layers. Several NCDs, such as diabetes mellitus, alcohol use disorders and smoking-related conditions, are acknowledged to be responsible for a significant proportion of TB cases globally. Nutrition-related issues lead to common risk factors for both: undernutrition is the determinant of TB and obesity a precursor of NCDs.
Currently, there are two national programmes to tackle the dual challenge. The National TB Control Programme (1962) was revamped as the Revised National TB Control Programme (RNTCP) in 1997. The National Programme for Prevention and Control of Cancer, Diabetes, Cardiovascular Diseases and Stroke (NPCDCS) took off in 2011. Rightly so, chronic obstructive pulmonary diseases and chronic kidney diseases have also been added to the programme. While RNTCP is a well-established programme, NPCDCS is still in a nascent stage, albeit slowly receiving the much-needed commitment at the highest level. Both programmes envision a public health framework, but their approach is broadly clinical. Availability of quality human resources also remains a challenge for them. Furthermore, NPCDCS warrants a sharper focus on the preventive and health promotion activities during adolescence, targeting the four high-risk factors; tobacco, alcohol, physical inactivity and an unhealthy diet.
Barring the TB-diabetes collaboration framework (which awaits optimal implementation), both programmes operate in silos. The focus is largely on the detection and management of the disease. The preventive measures are often regarded as secondary.
The linkages between TB and NCDs present an opportunity for wider collaboration through bi-directional screening, diagnosis and better access to care for both as part of an integrated model for management. Among its strongest features, RNTCP has a dedicated cadre of doctors at the district level, and skilled technicians at the block level for programme monitoring and at the sub-district/district levels to supervise 15,000 designated microscopy centres. To improve the notification and treatment compliance, public-private support agencies are being roped in for a comprehensive connect with private healthcare givers. Under the NPCDCS, NCD clinics have been established at district and community health centres; a serious attempt is being made to fast-track screening through outreach activities and management of NCDs at all levels. These two programmes are being implemented by the same set of functionaries at the primary healthcare level, providing a robust platform for integration.
Learnings from India's polio eradication programme can be used for this integrated model. The polio programme has demonstrated the possibility of achieving ambitious health goals in areas with weak health systems. It serves as a model approach for public health programmes globally. The success of the new initiative, Mission Indradhanush, has provided additional insights to emulate. The existing large cadre of polio surveillance medical officers and TB consultants can be onboarded to co-deliver public health solutions for TB and NCDs.
Under Ayushman Bharat, 1.5 lakh health and wellness centres are being established to provide comprehensive primary healthcare, including screening and management of NCDs and TB, especially to the underprivileged and vulnerable population.
An integrated community-level screening for TB and NCDs can be the first step, with house visits, booth/screening camps for high-risk populations and screening at public health facilities by the manpower available for both programmes. The scope of cross-screening of TB-HIV and TB-diabetes can be expanded for screening of other NCDs.
Besides screening and diagnostics, the family-level treatment of TB patients provides access to other family members to an expanded basket of NCD services. Furthermore, RNTCP provides nutritional assessment, counselling and management of TB patients; this can also be strengthened into a single-window nutritional counselling for NCDs.
Similar to the polio state task force and district task force, the RNTCP-NPCDCS task force can be established to monitor the programmes with techno-managerial support from polio SMOs and TB consultants. Integration of the NPCDCS mobile app and RNTCP mobile application Nikshay can provide a common database and generate dashboards to measure their progress. eVIN (electronic vaccine intelligence network), a Ministry of Health initiative being implemented by the United Nations Development Programme (UNDP) for strengthening of cold chain and vaccine supply, can be harnessed to ensure efficient supply of drugs, equipment, laboratory reagents and effectively curb their shortage, spillage and pilferage.
This integrated approach is the new call to action. The Global Action Plan for prevention and control of NCDs (2013-20) has recognised strong interaction between NCDs and infectious diseases, including TB, and the consequential need to explore common platforms to maximise the detection and treatment of co-morbidities. Both are leading causes of death, loss of productive years of life, catastrophic expenses and crushing impoverishment of families.
A strategic shift in public health policy calls for convergent action with comprehensive remedial measures woven around mitigating poverty, malnutrition and other socio-economic determinants of health. Quality of healthcare, partnerships with the private sector and NGOs, and robust behavioural change communication strategies could improve the outcomes. Convergent planning and implementation are central to realising sustainable development goals (SDGs). It is time to harness the potential of both programmes for better health outcomes, failing which the realisation of SDG-3 by 2030 will remain a distant dream.
Top Stories