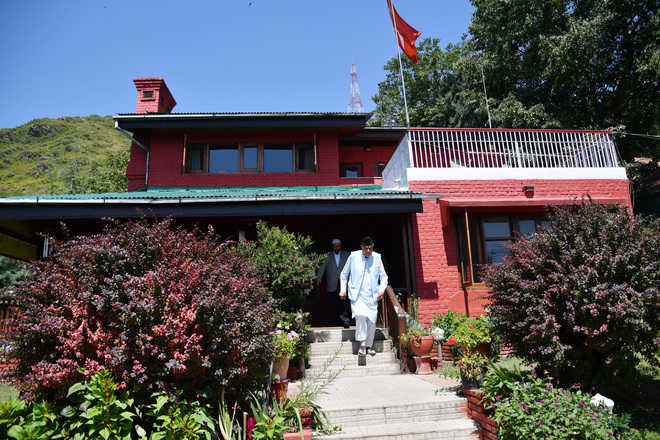 Majid Jahangir
Tribune News Service
Srinagar, September 19
From saying Nimaz five times a day, reciting Quran to understanding its Tafseer, Farooq Abdullah in jail is finding solace in religion.
A three-time Chief Minister and a sitting member of Parliament, Farooq, 83, who was put under arrest on August 5, the day Article 370 was scrapped, was booked under the stringent Pubic Safety Act (PSA) on September 15 night and lodged at his Gupkar residence, which has been converted into a detention centre.
"Farooq sahib is in good spirits and is hopeful that something good for the Kashmir will come out of the present situation," Farooq's youngest sister Suraiya Abdullah, who met him at the makeshift jail after the PSA was slapped on him, told The Tribune at her residence. "He is very hopeful on that," she said.
After the slapping of the PSA, no family member of Farooq was allowed to meet him on Monday. Immediately after he was booked under the PSA, one of his daughters Hinna, who lives abroad, made a public appeal through social media asking the authorities to allow her elder sister to see him as "she is the one who helps him with all his daily medication needs".
A day later Farooq's daughter Safiya, Suraiya and niece were allowed to meet him. Both Safiya and Suraiya are next-door neighbours of Farooq.
"Farooq sahib prays five times a day and reads Quran Sharief and also Tafseer (interpretation of Quran). It keeps him in good spirits," Suraiya said, adding that he recently finished reading a book, "Kashmir, land of regrets", written by Moosa Raza. Suraiya, a former professor, said Farooq had no telephone connectivity, but had an access to TV where he watched foreign news channels. A cook and an assistant were also staying with Farooq at the makeshift jail. Farooq also strolled in the garden during the day. When asked as to how Omar Abdhullah, who is also detained at the Hari Niwas Guest house — a short distance from where his father is lodged, she said an official at the jail had informed him about the slapping of the PSA on his father. The youngest sister of Abdullah said New Delhi had stabbed them.
"It was not expected of them. The man who always stood by them should not have been treated this way," she said.