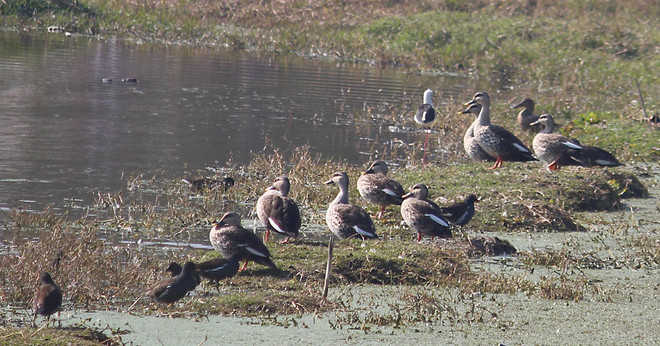 Aparna Banerji
Tribune News Service
Jalandhar, December 16
With the onset of winters and anticipated increased traffic of birds in the region, the Wildlife Department in the state is carrying out a project to relist all small and major wetlands (ponds, water bodies, marshes and lakes with noticeable biodiversity) in the region.
While the state also got a State Wetland Authority in March 2018, until March, the region will see a fresh report on its small and big wetlands.
While the Wildlife Department has already visited seven to eight villages in the region listing village ponds and wetlands there, a comprehensive report regarding the same will come out in March. While the Kanjli wetland in the Doaba region, the only Ramsar site, notified as wetlands of international importance, among the wetlands of the state, it's constant reduction in size has been a constant concern among state environmentalists.
The patterns and visits of migratory birds in these are directly impacted by their pollution and/or decrease in their size. While Kanjli was once a major stop for migratory birds in the state, this year it saw only a two-day stopover by birds.
District Forest Officer (DFO) at Jalandhar (and Kapurthala) Khushwinder Singh Gill said: "The project by the department for the improvement of water bodies' habitat requires us to visit and make a list of all important water bodies in villages, especially wildlife hubs. We are also stumbling upon many new revelations. Villages after villages with new wildlife habitats are being discovered. In Doaba, the process has just begun and until March we are supposed to submit a comprehensive report regarding the same."
Speaking about the Kanjli Wetland which has lost much of its flora and fauna in the past decade, the DFO said: "Much of Kanjli's reserves were lost to its receding waters and lack of sanitation in recent years which has, in turn, affected its aquatic life and migratory bird patterns. However, the revival of the wetland is one of the key priorities of the habitat-revival project. While previously migratory birds stayed for a substantial time at Kanjli, this year birds stayed only for about two days about 10 days ago and then flew off. The cleaning of the wetland has already begun and our aim will be reviving it in all its erstwhile glory. We want that birds should be able to spot the water and begin congregating here as before."
Gitanjali Kanwar, co-ordinator, Aquatic Bio-diversity Punjab, said: "I have been in touch with the state government and the Wildlife Department is planning to make some serious efforts to revive endangered wetlands and conserve existing ones. By January, we will also get a much clearer picture on the behaviour patterns of migratory birds with respect to the region."