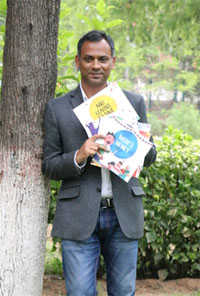 Mona
In the current scenario when almost everyone is trying to make sense of the tax system, Zerodha has come up with five illustrative books aimed to help children as small as seven to grasp subjects like savings, taxes and stock market!
Stories by Karthik Rangappa, brightly, beautifully illustrated by Tarun Andrews, these books weave in the concept without being in your face. "It was when my seven-year-old asked me what I do for a living, I fumbled," opens up Karthik, vice-president, educational services, Zerodha. As a pioneer of the discount broking model in India, Bengaluru-based Zerodha is committed to financial literacy in India and starting with the young ones seemed like the right step.
Nithin Kamath, founder & CEO, added, "Our educational initiatives, such as Varsity and Trading Q&A are a testimony to our commitment towards financial literacy. We are taking this commitment further with Rupee Tales. It is our earnest attempt to creatively inculcate the basic financial awareness among children. The concepts covered in Rupee Tales pertain to financial inclusion; pivotal to the cashless and paperless economy India is striving for. A large part of the 'financial inclusion for all' dream is dependent on how the younger generation adapts to it."
The five books—One And A Half Stories, Vishrambhu's Bus Journey, The Cake Shop, Mani's Money and Anu Learns to Save – deal with concepts like savings, banking and inflation, taxes, insurance, and stock markets.
In an atmosphere where uncertainty rules, these experts tell you to take it slow and steady. "The market is yet gearing up to the changed scenario and it would be sometime before it's all settled." As for adding financial literacy, an important life skill in your children's life, you can get The Ruppe Tales online at Rs 470 for a set of five books!
Top News
The former military ruler had left Pakistan in March 2016 fo...
After his failed misadventure in Kargil, Musharraf deposed t...
Military shoots down the surveillance balloon in Atlantic Oc...
The incident took place on Friday when Kambli reached his fl...
Dearness allowance for employees and pensioners are worked o...