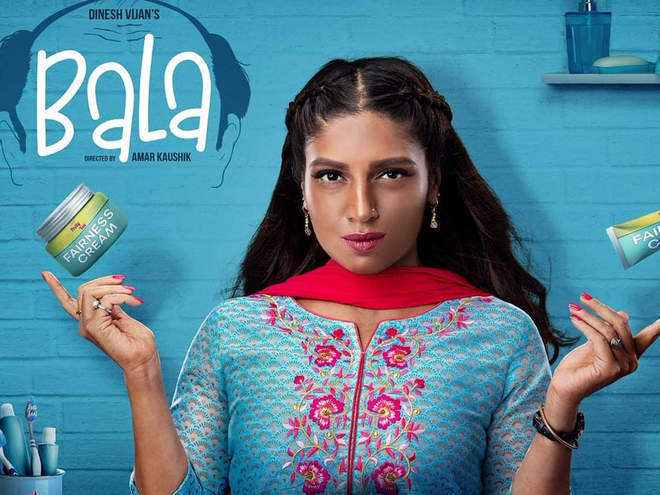 Mona
Challenging a stereotype or perpetuating one? A poster release little before the trailer and casting is once again fuelling another controversy. Obsession with white skin is nothing new in our country or our films, but to cast a Bhumi Pednekar in Bala as 'fairly' dusky has Twitterati up in arms.
'Why is Bhumi Pednekar's face covered in soot,' asked a Twitter user; 'This poster is soo weird,' commented another on the picture that shows Bhumi visibly darker with fairness creams in frame. "How do you not realise how problematic this is?" a user tagged Bhumi with the question.
Being different
This is neither Bhumi's first brush with casting controversy, nor audiences' first objection. Saand Ki Aankh opened up the ageism debate in Bollywood. Not too long back, Hrithik Roshan played Anand Kumar in Super 30 and gathered much attention due to his artificial 'darkening'. Before that, it was Alia Bhatt playing a Bihari migrant in Udta Punjab.
"I am still wondering from which quarters this objection is being raised and why is it solely targeted at the actresses?" questions director, screenwriter, producer Sartaj Singh Pannu. "We have seen Amitabh Bachchan in varied shades, Shah Rukh Khan playing a dwarf — no questions were raised then," he adds. Who to cast is a prerogative of the director and producer, insists Sartaj. "An actor should be able to carry a range of looks or it would get monotonous. Filmmakers are not foolish to spend crores and get the casting wrong! This even holds true for Saand Ki Aankh," he reasons.
Honest portrayal
"As a filmmaker, I always find an actor who is closest to the character that I am casting; not only does it look natural, but also the actor is able to portray the character more honestly," says writer-director Aditya Kripalani.
More than being 'politically correct', he adds, "Even Ayushmann has got a head full of hair and being busy as he is, he couldn't even go bald! Prosthetics is the way. It makes more sense to cast actors close to characters. Someone who has fought balding or weight would be way more truthful in the portrayal."
Not the right move
We look for an actor who best fits the character. Taking Bhumi to play a dark-skinned girl fails me completely. In the Hindi film industry, where there are so many good dusky actresses, to make Bhumi look a certain shade of brown isn't called for! — Rrupaali Gupta, Punjabi film producer
Bhumi fits the character
An actor should be able to adapt. For Bala, we needed actors who could carry off the roles. Bhumi is a brilliant actor and she fits the character perfectly. She was our first choice for the role. I would urge people to wait for the film before they pass their judgement and don't get influenced by what's being written on social media. — Amar Kaushik, Director of Bala
mona@tribunemail.com