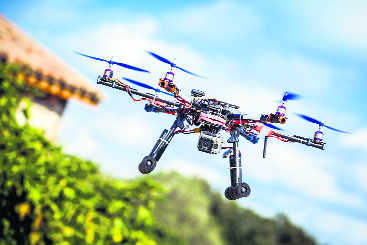 Vijay Mohan
Tribune News Service
Chandigarh, June 10
As Indian skies open up to the use of drones by civilian agencies or individuals, a mechanism is being put in place to effectively police their flying and to mitigate potential threats that they may pose to protected persons or sensitive establishments.
The Bureau of Police Research and Development, under the Ministry of Home Affairs, has been tasked to fine tune strategies and operating procedures and also to lay down a road map for acquisition of anti-drone technologies towards the protection of VVIPs and vital installations.
In December 2018, the Directorate General of Civil Aviation (DGCA), the national civil regulator, had issued a policy that permitted use of remotely piloted aircraft and unmanned aircraft systems, popularly referred to as drones for civilian commercial and personal use.
While permitting use of drones has been a welcome step, the move has also brought with it challenges of policing the use of such vehicles as well as their potential use as weapons, said a police officer, who recently attended a related workshop. Though operating parameters have been issued by the DGCA, the enforcement of rules lies with police and law enforcement agencies and this is uncharted territory for them. There are both, security and safety as well as privacy issues involved, he added.
The biggest challenge, an officer said, is monitoring the flight of drones in the vicinity of sensitive areas and effective response in case of an emergent situation. If a drone violates a no-fly zone inadvertently or deliberately, there may be no way of communicating with its operator and with time at a premium, it may call for a decisive action, he said.
The DGCA has classified drones into five categories, with the largest weighing above 150 kg. Larger drones have the ability to carry radio and surveillance equipment as well as lethal payload.
What regulator says
DGCA guidelines mandate all drones weighing above 250 gm have to be registered
Prior permission for take-off is a must for drones flying above 200 feet and in no-fly zones
The no-fly zones include border vicinities, airports, military installations, important government buildings, eco-sensitive zones and other danger areas
In December 2018, DGCA had issued a policy allowing drones for civilian commercial and personal use
Top Stories