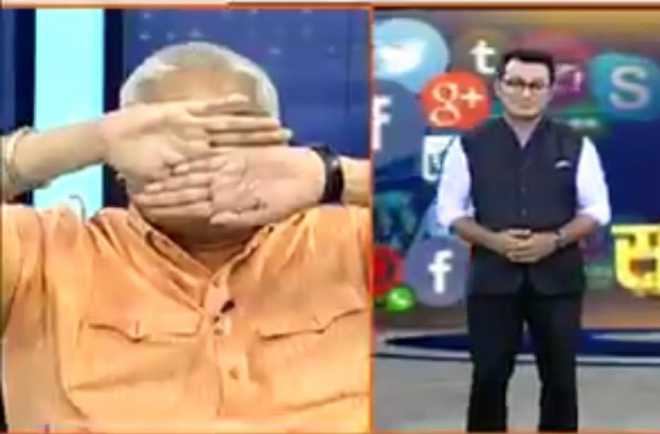 Tribune Web Desk
Chandigarh, August 2
Ajay Gautam, founder of right-wing organisation 'Hum Hindu', was invited to the News24 studio for a debate on the Zomato controversy where he refused to even look at a Muslim TV anchor.
Gautam's organisation was founded in 2015 with "the sole objective of complete Swaraj, absolute Hindu Rashtra".
The incident was not shared during the live-streaming of the news channel on YouTube on August 1. The video was circulated the next day, when Tweeple were seen slamming Gautam for his actions.
After the incident, the TV channel has decided not to invite Gautam to its studio.
"We at the newsroom of News 24 are in shock at the inappropriate & condemnable behaviour of Mr Ajay Gautam . Ethics of journalism do not allow to give platform to such devisive voices & gestures. News24 has decided not to invite Mr Ajay Gautam to its studio," tweeted Anurradha Prasad of News24.
we at the newsroom of @news24tvchannel are in shock at the inappropriate & condemnable behaviour of Mr Ajay Gautam . Ethics of journalism do not allow to give platform to such devisive voices & gestures . @news24tvchannel has decided not to invite Mr Ajay Gautam to its studio .

— Anurradha Prasad (@anurradhaprasad) 1 August 2019
Twitter reactions:
न्यूज़ 24 के ऐंकर को देख कर पंडित अजय गौतम ने ढक लीं आँखें...क्योंकि उस ऐंकर का नाम है सउद मोहम्मद ख़ालिद pic.twitter.com/Es8MaUSPPG

— Manak Gupta (@manakgupta) 1 August 2019
Fringe bigots like Ajay Gautam dilute all the good work of the RW.
Remember you're as strong as your weakest link! pic.twitter.com/SuZlTgyt4f

— Anuraag Saxena (@anuraag_saxena) 2 August 2019
TV Panelist, a so-called representative of Hindus, refuses to even see the face of a Muslim broadcaster! This is New India. #StopLynchings https://t.co/52YFjM7UFB

— Ashok Swain (@ashoswai) 1 August 2019
Top Stories