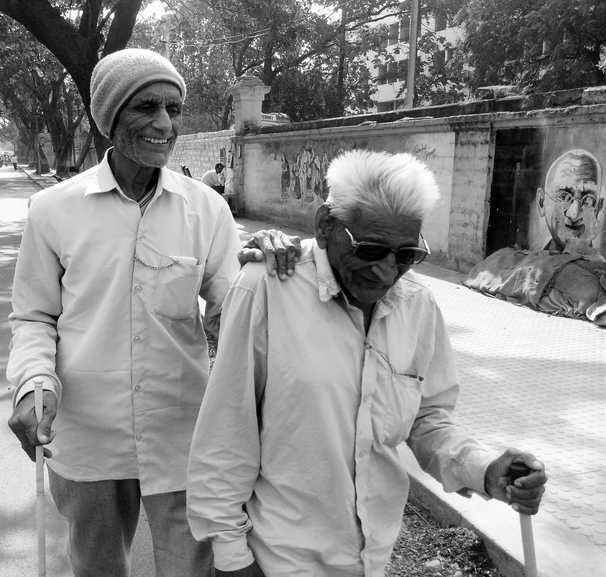 Aditi Tandon
Tribune News Service
New Delhi, October 10
Punjab's Kapurthala and Haryana's Yamunanagar feature among the top 10 districts with the highest rates of blindness among 50 years plus people across the country.
The National Blindness Survey of the government, which covered 93,108 individuals over 50 years in 31 sample districts, puts the estimated prevalence of blindness in this group at a high of 1.99 per cent. Severe visual impairment, a shade below blindness, was found to be at a high of 1.96 pc in this group. The survey coinciding with the World Sight Day (October 10) found the prevalence of blindness and visual impairment to be the lowest in Thrissur district of Kerala and Thoubal district of Manipur, respectively.
Bijnor in Uttar Pradesh has the highest prevalence of both blindness and visual impairment anywhere in India at 3.67 pc and above. The corresponding rate of blindness in people over 50 years were 2.21 pc for Kapurthala and 2.18 pc for Yamunanagar, which are in the top 10 districts with blindness rate, higher than the national average of 1.99 pc in the stated age bracket.
Other districts among top 10 with blindness rates over 2 pc are Warangal, Nalbari, Guna, Sikar, Sirohi, Ambedkar Nagar and Banda. Importantly, Kapurthala was also found to be among the top four districts with the highest rates of diabetic retinopathy (over 20 pc) in India, others being Thrissur, North Goa and Virudhunagar.
Blindness was higher among illiterates (3.23 pc) compared to literate population and it was only 0.43 pc among 10th pass and above. Also, blindness was more prevalent in rural population compared to urban population—2.14 pc against 1.80 pc.
Conducted by Dr Rajendra Prasad Centre for Ophthalmic Sciences, AIIMS, the national survey shows that cataract is the principal cause of blindness (66.2 pc) and severe visual impairment (80.7 pc).
Uncorrected refractive error was the most important cause of visual impairment and second important cause of blindness in the 2001 survey, but the current survey shows corneal blindness has emerged as the second important cause of blindness, putting refractive error behind.
In an important revelation, the survey says, "The proportion of blindness due to complications of cataract surgery has also increased."
Affected categories
Age group Prevalence
80-plus 11.6%
70-79 4.1%
60-69 1.6%
50-59 0.5%
Who is blind?
A letter which a normal person can read from a distance of 60 metres, a person with estimated blindness can only read from three metres or less with his better eye.
Prevalence down in two decades
Occurrence of blindness among 50-plus people is down from 5.3% in 2001 to 3.6% in 2007 and 1.99% currently