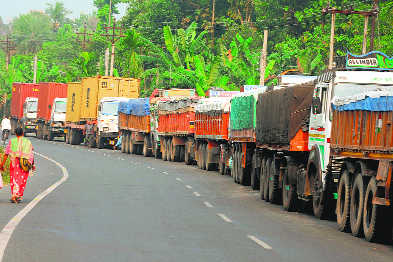 Jitendra K Shrivastava
Raxaul (Bihar), November 29
The "Madhesi movement" in Nepal has brought to a standstill the lives of many families in Bihar who were working for companies in the neighbouring country.
After the implementation of the new Constitution, Madhesis (Indian-origin Nepalis) started an agitation against the Nepal Government as they felt their basic rights and facilities under various government schemes had been scrapped.
Industries, shops and schools were forcibly closed by the community members that left thousands of Bihari workers jobless. Those left in Nepal were victimised due to the skyrocketing prices of essential commodities and petroleum products. Weary of the situation, they finally returned to their homes in Bihar whose seven districts share border with Nepal where prices of essential items have risen up by 10-15 times.
"What can I do if I lost my job? I was unable to sustain in Nepal where the prospect of the movement was looming large. How can I pay Rs 6,000 for a gas cylinder? Returning home is also not safe but I somehow managed to reach here," said Radhey Shyam Singh, a resident of Motihari.
Raj Kumar Gupta, president of Indo-Nepal Chamber of Commerce in Raxaul, said: "The prolong movement in Nepal has paralysed trade and commerce in Bihar and the transportation has crippled. The government has paid no heed to the traders and workers who are turning jobless daily. Condition is even worse in Bihar's seven districts — East Champaran, West Champaran, Sitamarhi, Madhubani, Supaul, Araria and Kishanganj."
He said: "The turnover of daily business transaction at Indo-Nepal border is of over Rs 12-15 crore, as 70 per cent of commercial activities in Nepal depend on Indian traders. Raxaul border has only been legalised for exit and entrance of foreign tourists and foreign export and import activities monitored by Indian custom officials. Petroleum and goods-laden trucks are queued up for days."
Ramakant Singh, a cloth merchant from Muzaffarpur, said: "We do our business in four districts of Nepal —Dhanusa, Sirha, Mahthari and Saptari. Now we don't dare to go for collection after the chaotic condition developed. We are bearing the brunt of the agitation of Madhesis, who are in majority in Nepal."
Koraiya resident Manoj Paswan, who wants to see her daughter Ragini in Janakpur town of Nepal, said: "My daughter lives in Janakpur. If I knew things will turn so ugly in the area, I would have never got my daughter married there. After implementation of the new Constitution, my daughter, who has two children, would not be entitled to many rights and facilities of the Nepal Government."