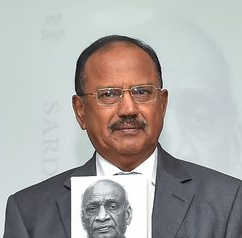 Mumbai, September 4
Having a separate Constitution for Jammu and Kashmir was probably an "aberration", National Security Adviser Ajit Doval said on Tuesday as he stressed that sovereignty can never be compromised.
His remarks come at a time the Supreme Court is hearing pleas challenging the constitutional validity of Article 35-A, which provides special rights and privileges to permanent residents of J&K.
At the launch of a book on Sardar Patel, Doval said "his contribution is not about the merger of states, it is only a means to an end... to make a sovereign state in which sovereignty of people was established in Constitution, applicable to the whole of it." — PTI
Top News
Government seeks time from Governor for oath-taking ceremony...
Tuesday happens to be Ganga Dussera in Haridwar, a day when ...
Locals, CRPF and police personnel rush to the spot and launc...
The accused was in a relationship with the minor, but they h...
Beijing's conciliatory tone comes ahead of Prime Minister Na...