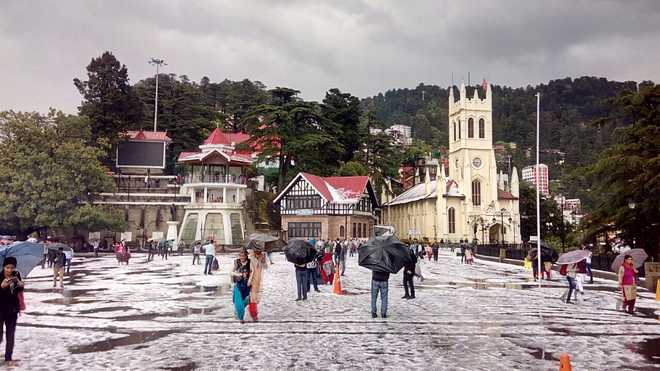 Tribune News Service
New Delhi, May 8
Shimla was on Tuesday hit by a heavy hailstorm, while the weather office has warned thunderstorms, squalls and gusty winds in Delhi, Haryana and Chandigarh, till Friday.
High mountains of Himachal Pradesh received fresh snowfall early Tuesday morning.
In a weather warning bulletin, the India Meteorological Department (IMD) said thunderstorms and squalls are "very, very likely at isolated places in Haryana, Chandigarh and Delhi".
It also warned of duststorm in Rajasthan while heavy rain is expected in six northeast states.
The weather office warned of squalls and hail along with thunderstorms in Jammu and Kashmir, Uttarakhand, Punjab and Himachal Pradesh.
The Haryana government on Monday closed schools for two days as a preventive measure in view of the weather warning.
In Himachal Pradesh, mild snowfall occurred on Monday in the mountain areas while some parts received rain.
The local weather office warned of more snow and rain accompanied by hailstorms and gusty winds in the state till Wednesday.
Light to moderate rains lashed parts of Punjab and Haryana, including Chandigarh, leading to a sharp fall in temperature.
Ambala, Panchkula, Mohali and Patiala were also hit by rain in the two states.
A dust storm hit many places in Jodhpur and Bikaner divisions and isolated areas in Jaipur, Ajmer and Kota regions affecting normal life even though no loss of life or major damage to property was reported, officials said.
Many parts of the state could again see a dust storm or thunderstorm in the next 24 hours, according to the MeT department.
Gusty winds hit Ajmer, Jaipur, Sikar and nearby areas in the morning leaving trees uprooted and sign boards damaged.
Moderate to light rains occurred at places in Jodhpur, Bikaner, Jaipur and Ajmer divisions while the weather remained dry in other divisions, according to the Met department.
Phalodi and Lohawat (both in Jodhpur), Sardarshahar (Churu) recorded 2 cm rainfall while many places recorded 1 cm or less rain till morning since yesterday, officials said.
The day temperatures reduced by a few degrees due to change in the weather.
Last week, thunderstorms had wreaked havoc in parts of Uttar Pradesh and Rajasthan, killing nearly 100 people. With agencies
#Uttarakhand: Badrinath received fresh snowfall this morning, 2 inches of snow covers the area. Hemkund received fresh snowfall too. Badrinath Yatra underway. pic.twitter.com/i6ZBn1wjCB

— ANI (@ANI) May 8, 2018
Himachal Pradesh: Keylong in Lahul Spiti received fresh snowfall this morning. pic.twitter.com/Obw9Duzh9O

— ANI (@ANI) May 8, 2018
#LatestVisuals from Uttarakhand: Snowfall continues in Badrinath. It has been snowing in the town since 5 am in the morning. pic.twitter.com/KJrOqZUL8j

— ANI (@ANI) May 8, 2018